*Asks Osinbajo to dislodge cabal destroying Nigeria
By Soni Daniel, Northern Region Editor
Abuja—As the crisis rocking the Peoples Democratic Party, PDP, takes a new twist with the recent Appeal Court judgment recognising former Borno State governor as its national chairman, Senator Ben Murray Bruce has asked members to bury personal interest and work for the overall interest of the party.
The senator, who represents Bayelsa East Senatorial District, told Vanguard in an exclusive interview in Abuja that the crisis now rocking the party could lead to its annihilation, if not nipped in the bud.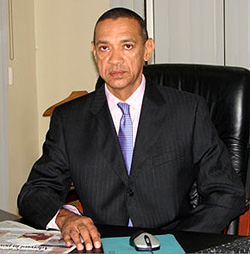 He said his support was not about Modu Sheriff but the survival of the PDP as a veritable opposition party that could chase out the ruling party in 2019.
The lawmaker drew the attention of those advocating an appeal against the Appeal Court ruling on Modi Sheriff to the Supreme Court, to a similar situation in Ondo State where an unresolved court case denied the party a chance to field a governorship candidate on time and be able to prepare for the election.
Murray-Bruce said it was imperative to bury personal interest in the matter and work for the revival of PDP to be able to battle the APC out of power in the next two years.
He said: "My position is not about Sheriff but about the overall interest of our party-the PDP and I make no pretensions about it. It is about the future and interest of our party.
"We have been in crisis for about two years now and we have been fighting each other and we don't have a leadership for the party. We have lost four senators to the opposition.
''They have defected to the APC and we cannot declare their seats vacant because they cite the current crisis in the PDP as the basis of their defection.  My position, therefore, is to preserve the party from destruction.
Taking a look at current issues in the country, Murray-Bruce asked the Acting President, Prof. Yemi Osinbajo, to take charge of the country by dealing with those he referred to as a 'cabal' trying to derail Nigeria for their personal gains.
According to him, the recession in Nigeria is not caused by declining oil prices but multiple mistakes and wrong policies made by the cabal for their personal aggrandisement to the detriment of  majority of Nigerians."