By Emma Amaize, Festus Ahon, Egufe Yafugborhi, Akpokona Omafuaire & Ochuko Akuopha
ABUJA—NIGERIAN Agip Oil company, NAOC, yesterday, shunned the joint committee of the Senate and House of Representatives of the National Assembly, just as the committee was told that the company has been indebted to Niger Delta Development Commission, NDDC, to the tune of $6.186,696 for a period of 15 years.
The said money forms part of the  payment of the statutory three percent budget remittance to NDDC by the international oil companies in the  Niger Delta region.
The 15 years period, according to the consultant, was from 2001 to 2015, while the total amount owed by the company stands at $ 22.270 million.
The breakdown of the money was given, yesterday, to the Senate  and House of Representatives Committees on Niger Delta Affairs by the head of Starline Consultants, Bosun Arebuwa.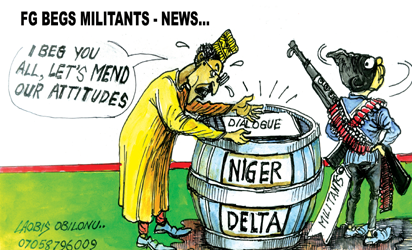 Earlier in his remarks, Chairman, Senate Committee on Niger Delta, Senator Peter Nwaboshi (PDP, Delta North),  who noted that he was surprised that the representatives of Agip did not show up for the meeting after series of discussions,  said that he had told the company that they must appear before the committee to present their side of the story, adding that many Nigerians were worried and have complained about the said money.
According to Nwaoboshi, Agip was invited to the meeting and it acknowledged the memo through a letter it sent to the committee dated  February 2, 2017.
Also speaking, the Managing Director of NDDC, Nsima Ekere, told the committee that he believed that the management of Agip would attend the meeting following discussions he had with them the previous day, adding that his management will not compromise, but follow up the money for the interest of the people of the region.
Meanwhile, soon after the presentation of the report by the consultant, a member of the committee, Senator Donald Alasoadura (APC, Ondo Central), who picked holes with the figures, said that it was wrong to take away the levy before the budget since the three percent must be the gross which was not part of the law, adding that the National Assembly is to do the right thing and to ensure that right things were done.
It will be recalled that  erring oil companies, yet to pay the statutory three percent budget remittance to NDDC were invited by the committee as a follow up to the earlier meeting held with them last year.
The National Assembly Joint Committee on the Niger Delta, said it was unacceptable for the oil firms to continue flout the law, while their businesses thrive.