By Emmanuel Aziken, Political Editor
Leading chieftains of the Peoples Democratic Party, PDP last night converged on Port-Harcourt, Rivers State for the crucial Court of Appeal decision on the legitimacy of the two major factions of the party.
The Court of Appeal judgment according to major stakeholders would determine the fate of the PDP as a major and vibrant political party.
The PDP was split into two major factions in May 2016 when a move to return then acting national chairman, Senator Ali Modu Sheriff as substantive national chairman was derailed partly on court orders.
Governors and other members of the National Executive Committee at the scheduled May 21, 2016, election abandoned the original script and in its stead, led other delegates to the convention ground where they appointed a national caretaker committee headed by Senator Ahmed Makarfi.
Sheriff, however, insisted that the convention had been called off and sustained himself as national chairman leading to rival factions of the party in some states with divided loyalty to Makarfi and Sheriff.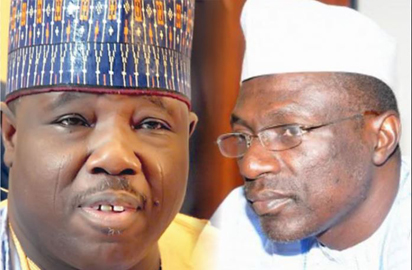 While the mainstream of the party including the governors and National Assembly members have remained with Makarfi, the Sheriff faction has from time to time been given legal fillip with favourable court decisions in some states and at the national level.
Today's expected judgment, however, followed the favourable judgment obtained by the Makarfi faction at the Federal High Court, Port-Harcourt in which Justice Mohammed Liman ordered that the Makarfi faction be duly recognised and that Sheriff should not parade himself as national chairman.
Sheriff's appeal against the judgment was heard by a three-man panel chaired by Hon. Justice A A B Gumel. The other two justices on the panel were Justice T.N. Orji-Abadua and Hon. Justice B.S. Sanga.
Yesterday, the deputy national chairman of the Sheriff faction, Dr. Cairo Ojugboh in expectation of victory, said: "The issue is very simple. Was Sheriff right to obey a court order? If he was right then, he wins if he was wrong, then Makarfi wins, and it is the truth that is facing us."
While spokesman of the Makarfi faction Prince Dayo Adeyeye said "lets wait and see," a major stakeholder in the Makarfi side also expressed hope saying that victory for the Makarfi side would permanently put Sheriff out of the market.
"If we win we will be in a good position to form the next government given the apparent incompetence of the APC. But if Sheriff wins, it would be disastrous given that nobody of significance is with him and PDP would be buried," the chieftain who was already in Port-Harcourt for the judgment said.