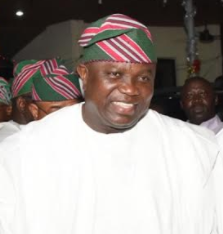 AMBODE
By Jimoh Babatunde
GOVERNOR Akinwunmi Ambode of Lagos State has revealed that the decision to renovate the Tinubu Square fountain was informed by the need to upgrade all historical monuments to the status befitting the state in terms of physical features, values and aesthetical appeal for tourists.
Speaking at the reopening of the newly renovated Tinubu Square fountain located on Broad Street in the heart of Lagos Central Business District, the governor said the state government will continue to use artistic facilities such as the Tinubu Square and others being constructed across the state to showcase its attractions and create a must-visit appetite for both domestic and foreign tourists.
The governor, represented by the special adviser on arts and culture and acting commissioner for tourism arts and culture, Hon. Adebimpe Akinsola, maintained that monuments are erected all over the world as a way of preserving human history and upholding societal values and ethics.
Governor Ambode attested to the selfless leadership, valour and bravery of Madam Efunroye Tinubu for her significant contribution to commerce and general development of Lagos. The Tinubu Square Fountain according to the governor "is a celebration of her exploits in the business world and contributions to the foremost status the state has attained in the world of commerce".
Ambode urged the people to protect the Tinubu Square monument against vandalisation and any form of misuse. The reopening of the fountain was attended by the special adviser to the governor on Central Business Districts, Mr Agboola Dabiri, the sole administrator Lagos Island East Council Development Area, Mr Abiola Are, and the sole administrator Lagos Island Local Government, Mr Nasir Musa.