By Benjamin Njoku with Agency reports
FOR those that graced the 59th annual Grammy Awards, which took place Sunday, at Los Angeles's Staples Centre, the night was nothing short of a display of glamour, fashion, seriousness and sometimes politically charged affair. Before the telecast began, Grammys producer Ken Ehrlich reportedly told the potential winners: "Say something important tonight. We're expecting it."
Ehrlich also reminisced about the days when the Grammys were a relatively modest affair, produced at L.A.'s Shrine Auditorium, which holds less than half the capacity of the massive Staples Centre. While Ehrlich was speaking, country star Tim McGraw made his way to his seat by crossing over the main stage, where Ehrlich was holding court. "Tim McGraw, you stepped right on my line!" Ehrlich quipped.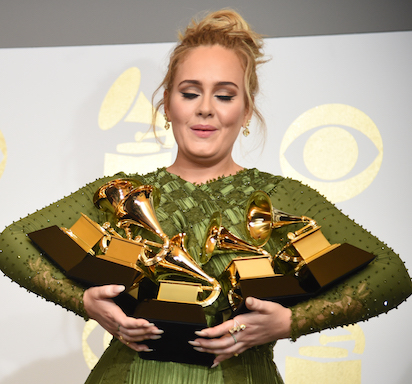 Visually stunning and  daring performance
One of the bands that heeded Ehrlich's request to say something important was A Tribe Called Quest, who gave a rousing medley performance and delivered messages of resistance and solidarity. One unexpected fan? Keith Urban, who was on his feet dancing and grooving during their entire number.
Also during the ceremony, Beyoncé's visually stunning and daring performance left many people in the audience gasping. But all that beauty came at a cost, as the stagehands discovered: Queen Bey, who frolicked on a bed of flowers, left behind the wreckage of thousands of petals, which took about a dozen people several minutes to clean up during a commercial break.
Beyoncé wasn't the only member of the Knowles family to take home a Grammy (or two) Sunday night. Bey's young sister, Solange, also earned a trophy, for Best R&B Performance for "Cranes in the Sky." Chatting with reporters in the media room, Solange cited author Maya Angelou as an inspiration and said, "All that we can do as artists, especially as a songwriter, is to write about the truth." She also gave shoutouts to Nina Simone and Marvin Gaye. "I'm grateful to those artists, because it's not easy to do that, but we're not doing anything new," Solange said.
The night was dominated by Adele, who scooped five awards including the "big three": best song, best record and album of the year.
Also in the press room, Album of the Year winner and massive Beyoncé fan, Adele, said that she felt that 2017 should have been Beyoncé's time to win. "My album of the year was Lemonade," she declared. "What the f*** does she have to do to win Album of the Year? That's how I feel."
Another diva, Lady Gaga, impressed in a very different way. Fresh off of a triumphant Super Bowl performance, she revealed yet another persona: the hard-rocking frontwoman for Metallica. Before taking the stage, she sprinted through the crowd hugging friends, waving, and flashing peace signs; later she wound up back in the audience, via her epic stage dive.
Chance's album Coloring Book took home the honor for Best Rap Album, and proved that independent artists who give away their music for free can go far in this business. "I expected that he'd release it streaming only because of the kind of artist he is – he's a product of the Internet age," O'bi said.
When Beyoncé became emotional! : In an evening that ran high with emotion, Beyoncé was moved to tears as Adele dedicated her Album of the Year win to the singer at Sunday night's Grammy Awards. Beyoncé was nominated for nine Grammy awards following the success of her critically-acclaimed and internet-breaking album Lemonade last year. However, on the night she walked away with just two of those awards, winning Best Urban Contemporary Album and Best Music Video for the politically-charged anthem "Formation," missing out on the biggest award of the night to the British singer.
Overcome with emotion, Adele thanked her co-writers and fans before saying she could not possibly accept the award as she believed the Destiny's Child album to be a more deserving winner. "I can't possibly accept this award and I'm very humble and gracious but the artist of my life is Beyoncé and the Lemonade album was just so monumental and so well thought out and so beautiful and soul-baring," she said through a shaky voice.
The camera then panned to Beyoncé whose eyes filled with tears as Adele thanked her for the way she makes "me and my friends feel and the way you make my black friends feel".
Beyoncé, who is usually very composed and private during public events, was seen shaking her head and mouthing 'I love you" back to Adele while visibly emotional as she stood next to her husband Jay Z. While walking off the stage Adele then accidentally snapped her Grammy in half reportedly to give a portion to Beyonce in scenes reminiscent of 2004 film Mean Girls. Adele walked away with the gong for her comeback album 25, also seeing off competition from Drake and Justin Bieber, who both did not attend the ceremony.
'What Went Wrong with my George Michael Tribute.' Meanwhile, performing on stage, Adele was "devastated" by her unscripted moment when she briefly swore then as she was asked to restart her George Michael tribute.
Speaking after the show, the 28-year-old singer acknowledged that despite her tedious preparation for her performance, it didn't go as planned. Just seconds into her emotional take on Michael's 1996 hit "Fastlove," Adele stopped abruptly and asked to start over.
"I was devastated by that, and my rehearsal — I did have a shaky rehearsal today," she admited. "But I have been working very hard on this tribute for him, every day." As she said onstage, Adele was determined to deliver the performance Michael, who died on Christmas Day last year, deserved.
The singer, who took home five Grammy awards on Sunday, said  that her first memory of being Michael's fan was being "blown away by how f—ing hot he was.I found him to be one of the truest icons," she shared.