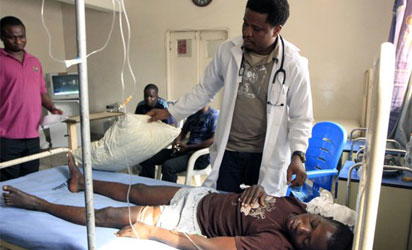 Kaduna State Ministry of Health on Thursday said inadequate funding was responsible for non-implementation of about 65 per cent of its planned activities in 2016.
The ministry made this known in its quarterly report obtained by the News Agency of Nigeria (NAN) in Kaduna.
It said that of the 102 planned activities slated for 2016 only 40 strategic plans were implemented due to inadequate funding.
The report said that delay in the release of funds, in addition to inadequate allocation of overhead cost to the ministry and other departments had affected implementation of the planned activities for the year under review.
It stated further that N2.06 billion was approved for the ministry in 2016, "but the number of implemented activities for all departments were less than the number of activities planned".
The reports said that the average performance for all departments in the ministry and the entire health sector stood at 35 per cent.
" We have planned activities under Administration, Public Health, Pharmacy, Finance, Hospital, Planning, Nursing and Projects departments, but were unable to achieve many of them due to inadequate funds," it said.
The report said that the state had procured and installed Walk-In-Cold Rooms (WICRS) in Sabon-Gari, Zaria (Northern Zone), Kaduna (SPHCDA Headquarters) and Kafanchan (Southern zone) in a move to decentralise vaccine availability.
It said that the first batch of the Solar Direct Driven Refrigerators had been procured for installation in Primary Healthcare Centres (PHCs) in 255 wards.
According to the report, the state procured the state-of-the-art Thermocycler equipment and consumables to enable genetic mapping and early detection of viruses including HIV/AIDS and Hepatitis.
It said that the medical items had been made available in General Hospital Kafanchan, Hajiya Gambo Sawaba General Hospital Zaria, Barau Dikko Teaching Hospital, Yusuf Dan-Tshoho General Hospital and General Hospital Saminaka.
"The state also spent N126 million to procure fluoroscopy X-ray machines with allengers mars and x-ray printers for Hajia Gambo Sawaba General Hospital, Zaria, Barau Dikko Specialist Hospital, Kaduna and General Hospital Kafanchan.
"This is to ease the sufferings of the teeming population," the reports stated.