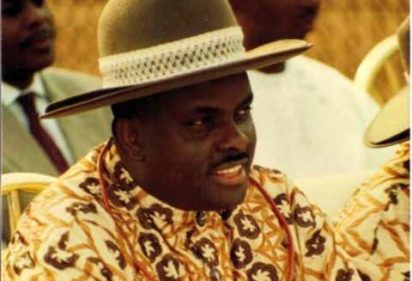 By Emma Amaize, Festus Ahon, Perez Brisibe Ochuko Akuopha and Paul Olayemi
ASABA– GOVERNOR of Delta State, Senator Ifeanyi Okowa said he was unacquainted with any arrangement by a former governor of the state, Chief James Ibori, who returned to the country after his jail term in the United Kingdom, last Saturday, to abandon the Peoples Democratic Party, PDP, for the All Progressives Congress, APC.
Okowa, who spoke in response to a question by a journalist at a quarterly media chat in Asaba, said Ibori was not talking about politics at the moment, but more interested on how to manage his family.
"I am not aware of that, I do not even believe that the man is here talking about the issue of political parties. I believe that the first thing in his mind is his family and to bond with his family," he said.
Meanwhile, the Deputy Governor of the state, Deacon Kingsley Otuaro, former PDP governorship aspirant, Mr. Tony Obuh, visited Chief Ibori at his country home in Oghara, Ethiope West local government area.
Otuaro arrived Ibori's residence at exactly 2:57 p.m in a convoy of 10 cars, while Obuh came afterward. Other visitors were the chairman, governing board, Delta State School of Health Technology, Mr. Nelson Ejakpovi, prominent politician, Chief Solomon Ighrakpata, management and staff of the Delta State University, DELSUTH, Oghara and Delta State Polytechnic, Otefe, Oghara.
Chatting with newsmen, Chief Ighrakpata said Chief James Onanefe Ibori would provide political direction to the Urhobo people, adding: "Wherever he goes, the Urhobo will follow him."
However, it appeared that Ibori's media handlers have become weary of reporters hanging about Ibori's country home, as they ordered them to disappear from the environment completely.
Some of the tenacious reporters walked a safe distance from the gate and sat under a tree after their eviction, still keeping tab on the goings on at the newfound political Mecca of the state.
The former governor will hold a thanksgiving service on Sunday.