By Simon Ebegbulem
BENIN—GOVERNOR Godwin Obaseki of Edo State, has inaugurated a six-man Joint Development Committee led by the immediate past Secretary to the State Government, SSG, Prof. Julius Ihonvbere, charging it to implement the Edo Electrifying Initiative for Electricity Generation, Transmission and Distribution in the state.
Other members of the committee include Mr Igbinedu Ineh, Charles Akhigbe and three others to be nominated by Siemens Gas and Power Limited.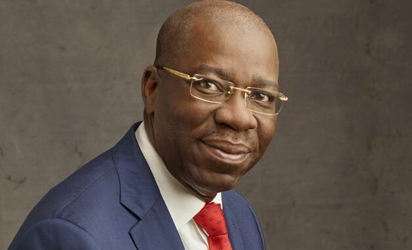 The inauguration of the committee followed an agreement the state government reached with the management of Siemens Power and Gas Limited to generate 1,000 Megawatts of electricity in the state in the next four years.
Inaugurating the committee, Obaseki explained that the committee will study the state's power requirement so as to come up with a roadmap for a Geographical Information Systems, GIS, study, which the state would undertake.
According to him, the committee is expected to come up with human development programmes that will cut across the primary, secondary and tertiary levels. It will also examine ways to help Edo State improve its transportation infrastructure.
The committee will also advise and direct appropriate attention to areas where corporate interventions should be undertaken and also drive the entrepreneur initiative to support all the matters listed above. The governor added that the committee is expected to submit its report before the end of the first quarter of the year.
The Managing Director of the company, Mrs Onyeche Tiffashe, commended governor Obaseki for making the deal a reality, saying that "by the time we are done, we are going to enjoy increased power generation in Edo state and we are going to train the man power that will man the plants for the state. The governor must be commended for taking this bold step for the state".