By Sebastine Obasi
GLOBAL demand for natural gas is expected to increase 2 percent yearly between 2015 and 2030, with liquefied natural gas, LNG, demand expected to rise at 4 – 5 percent, according to Royal Dutch Shell Plc's first LNG Outlook.
The report, which draws on a broad range of independent industry data and internal analysis, projects the size of the global LNG market to rise 50 percent between 2014 and 2020, mainly attributable to LNG facilities already under construction or recently completed.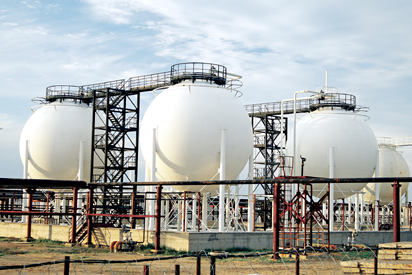 In 2016, global LNG demand was said to have reached 265 million tonnes, including an increase in net LNG imports of 17 million tonnes from a year earlier.
Shell noted that many observers had expected a strong increase in new LNG supplies would outpace demand growth during 2016. However, demand growth kept pace with supply as greater-than-expected demand in Asia and the Middle East absorbed the increase in supply from Australia.
It also noted that China and India, which are set to continue driving a rise in demand, were two of the fastest-growing buyers in 2016, increasing their imports by a combined 11.9 million tonnes of LNG. This boosted China's LNG imports in 2016 to 27 million tonnes and India's to 20 million tonnes.
Local shortages in gas supplies
LNG demand has been bolstered by the addition of six new importing countries since 2015, namely; Colombia, Egypt, Jamaica, Jordan, Pakistan, and Poland, bringing to 35 the number of LNG importers, up from about 10 at the start of the century. Egypt, Jordan, and Pakistan were among the fastest-growing LNG importers in the world in 2016. Due to local shortages in gas supplies, they imported a total of 13.9 million tonnes of LNG.
The report also stated that the bulk of the increase in LNG exports in 2016 came from Australia, where exports rose 15 million tonnes from a year earlier to a total of 44.3 million tonnes. The US also contributed the growth, with 2.9 million tonnes of LNG delivered from the Sabine Pass terminal in Louisiana.
Shell's outlook forecasts for LNG prices continue to be determined by multiple factors, including oil prices, global LNG supply and demand dynamics, and the costs of new LNG facilities.In addition, the growth of LNG trade has evolved into helping to meet demand when US gas markets face supply shortages.