By John Egbokhan
For the second time in about four years, Nigeria will be confronting South Africa in the qualifying race for the next edition of the Africa Cup of Nations, Cameroon 2019.
After winning a third AFCON crown at South Africa 2013, many Nigerians fans were of the belief that the Super Eagles would have a smooth ride to the following edition in Equatorial Guinea
Pooled alongside South Africa, Congo and Sudan in Group A, with the top two teams automatically qualifying for the show-piece event, officials of the Nigeria Football Federation (NFF) swaggered about believing that the Eagles were already in dreamland.
At first glance, they could be forgiven as the Eagles boasted of an impressive record against the South Africans.
South Africa do not have a good football record against Nigeria. Bafana Bafana were walloped 4-0 by Nigeria in their first ever World Cup qualifying match in October 1992. Richard Owubokiri opened the scoring ten minutes before half-time and the Super Eagles ran riot after the break, with Samson Siasia doubling the lead before the late Rashidi Yekini bagged two more goals.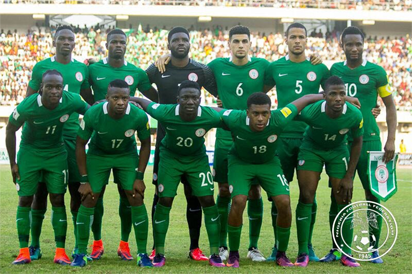 In the return leg at Soccer city in January 1993, it ended goalless
The next time both teams met again was in the semi-finals of the 2000 Africa Cup of Nations co-hosted by Ghana and Nigeria. Two strikes from Tijani Babangida sealed Eagles place in the final
In their next meeting in 2004, Eagles reminded Bafana Bafana that they were still the boss, with former captain, Joseph Yobo scoring the opener, before Austin Okocha increased the lead while Osaze Odemwingie netted two late goals to give Nigeria a commanding 4-0 win.
But Bafana Bafana will later in the year, get their first win over Nigeria, courtesy of a 2-1 margin in the Nelson Mandela Challenge.
However, the blip at the Nelson Mandela Challenge in 2004 was atoned for by the Nigerians, who recorded another win over Bafana Bafana, this time during the 2010 World Cup/Nations Cup qualifiers.
In the return fixture, Eagles defeated Bafana Bafana 1-0 in Port Elizabeth.
It was another walk in the park for the Eagles, when they clashed with Bafana Bafana in August 2013 in a Nelson Mandela Challenge tie, as two goals by Uche Nwofor separated the Nigerians from the boys from the Rainbow nation.
Nigeria inflicted a seventh defeat in nine matches on Bafana Bafana at CHAN 2014 in Cape Town, with Ejike Uzoenyi scoring a brace while Ifeanyi Ede added the third before Bafana's striker Bernard Parker scored a consolatory goal from the penalty spot
But some months later in Cape Town, South Africa redeemed themselves by holding the Eagles to a barren draw in a 2015 Africa Cup of Nations qualifying match, a game that would set the tone of things to come as the Nigerians would end up not qualifying for the tournament hosted by Equatorial Guinea
After suffering many heart-rending defeats to Nigeria, it was fitting that Bafana Bafana were the ones who stopped Eagles from qualifying for AFCON 2015, getting a deserved 2-2 draw in Uyo.
In hindsight, they would have ended the 2015 qualifying race with aplomb, racing into a 2-0 lead, courtesy of two goals by Tokelo Rantie, before being pegged back by two late Sone Aluko's goals.
In fact, the visiting South Africans were on the brink of recording a historic first victory over the Nigerians in a competitive match and in Nigeria for that matter. The result meant Nigeria finished in third place while South Africa and Congo got the two automatic qualifying tickets to play in the 2015 tournament. Even though they was still a place for the third best team to qualify for the tournament, Nigeria failed to make the grades, losing the slot to D.R Congo, who with nine points, edged out the Eagles, who finished the qualifying campaign with eight points.
The damage to Eagles was done at home, losing 3-2 to Congo, drawing 2-2 with South Africa and beating Sudan 3-1, leaving them with a miserly four points from a possible nine. They managed to pick the same number of points in their three away matches, all amounting to nothing for a team, boasting of three Nations Cup titles under their belt.
And after missing out on a place to the 2017 AFCON in Gabon and finding themselves in the same group with South Africa, Libya and Seychelles in the qualifying race for AFCON 2019, it seems the Eagles are working out plans to avoid making the same mistakes that cost them dearly in 2014.
Coach Gernot Rohr gave this indication earlier in the week, when he said beating South Africa on June 13 in Uyo was top on his scale of preference. At a time that the spotlight has been beamed on the August 28th  2018 FIFA World Cup qualifying clash between Nigeria and Cameroon, Rohr, said it was important for his team to get their AFCON campaign off with a win against the Bafana.
"We have to be very careful not to focus too much on Cameroon because we are not playing them until the last week of August. Before then we have an equally important game against South Africa in the AFCON qualifiers in June.
"I understand that Nigerians are concerned about our progress to the 2018 World Cup in Russia but don't forget that we have not qualified for AFCON since 2013 and the crucial game against South Africa is in June, so I want to focus on that", added Rohr.
He hinged Eagles success against South Africa on early and good preparations, saying that the upcoming friendlies will put his team in the right frame of mind.
"Between now and June, we are going to play two friendly games, which will help us against South Africa", said the former Burkina Faso coach, whose Nigerian adventure has been impeccably perfect.
Since his appointment as Eagles manager in 2016, Rohr has masterminded a 1-0 win over Tanzania in a AFCON 2017 qualifier in Uyo and two World Cup qualifying victories over Zambia and Algeria, results that have brought a new sense of belief amongst Nigerian fans that the dark days of walking in the abyss were over.