By Jacob Ajom
National and West African Middleweight boxing champion, Rasheed Abolaji, a.k.a. Afonja Warrior has promised to  knock out his British opponent, Sam Sheedy when they clash for the vacant Commonwealth crown at Ponds Forge Arena, Yorkshire, England on March 18.
Speaking with Sports Vanguard on the fight, Abolaji assured, "I have been training hard for the fight and I want to assure all Nigerians that I will come back home with the belt."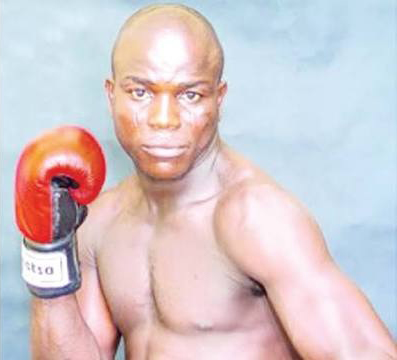 The dark-skinned Afonja Warrior who turned professional in 2013 already has an intimidating record of 8 wins(4 KOs) and 2 losses. He said he was not scared of his opponent's equally impressive record of 17 wins and 2 losses. Abolaji said he does not respect records.
"I cannot be intimidated by his record because I also have my own record and have fought and beaten people with better records than mine before. I will stop him in round five".
He said the fight for the Commonwealth title is an opportunity for him to launch his way to bigger things. "Every boxer wants to be a champion and my target is the world championship belt."
This fight will give me the platform to get to that destination. It is an opportunity for me to shine," he said, adding, "I won't disappoint."