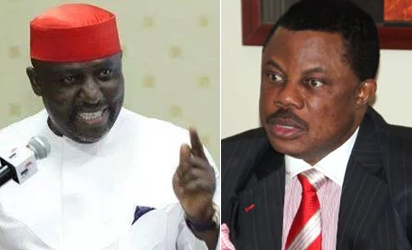 •Okorocha: Imo governor and •Obiano: Anambra governor
By Emmanuel Aziken, Political Editor
PERHAPS it was an indiscreet political chatter by Governor Rochas Okorocha of Imo State at a stakeholders' summit he hosted to enthrone a new leadership for the All Progressives Congress, APC, in the Southeast. At that meeting, he noted that given his preoccupation with other duties and the unavailability of Dr. Chris Ngige and Chief Ogbonaya Onu, both of whom are ministers, that Chief Ken Nnamani, the former President of the Senate would now become the new leader of the party in the Southeast.
However, what has elicited strong reactions since the meeting was the governor's assertion that three governors from the Southeast were already in talks with him towards crossing over to the ruling APC. His assertion published on Sunday was denied by all four governors from the region with the sharpest rebuke coming from his Anambra State counterpart, Chief Willie Obiano. Since the first reaction by Obiano through Vanguard on Monday, both governors speaking through proxies have been on each other's throats with caustic comments that could inevitably put whatever possible accord in the future in jeopardy.
THE question should be has Rochas  Okorocha provided an inspiring leadership for the people of Imo State under APC? So why would any governor in Nigeria heed Okorocha's call? Okorocha is an example of what a leader should not be. The people of Imo State know what they have in Okorocha. Okorocha is not an inspiring leader that anybody would want to follow to any destination.
•Mr. James Eze, Chief Press Secretary to Governor Obiano, January 30, 2017
Okorocha's claim that there is a general impression that Chief Willie Obiano is an aggressive governor, who should have done better as a militant than as a governor, is laughable and it is clear to Nigerians who really is a motor park personality between them. Obiano has always been known and accorded the respect of a complete gentleman, while Okorocha is widely known for his questionable past which has continued to trail him despite his hogwash attempts to cover it up with a façade of his bogus but empty philanthropic activities. Many people have over time seen through his tricks. What a pity!
Indeed Okorocha is an example of what a leader should not be. Who is he to teach the virtues of leadership ideas and service to Gov Obiano? He talks of ideas when he cannot pay workers salaries and now tries to intimidate Imo retirees to forfeit 60 per cent of their arrears of their sweat. Are those the kind of ideas we need at this critical time? Those are destructive ideas, and a destructive idea cannot bring about constructive ends.
Governor Okorocha, whose so- called popular policies, like free education at all levels, has been a fluke and at best an over bloated media hype. His other so-called programmes have also been discovered to be mere flash in the pan as the people of Imo State have seen through his tricks and treachery, as well as other clandestine tendencies. When serious Governors like Obiano are talking, the likes of Okorocha should keep quiet. This is a governor who has failed woefully to pay workers salaries. He is also heavily indebted to even pensioners who have spent their youth and strength to labour for the state, in their old age Okorocha's's government has abandoned them at this most critical time that they need the state. What an abomination!
While claiming a noble antecedent, Governor Okorocha questioned Obiano's antecedent before he became governor. What insolence and tomfoolery! The world knows Chief Willie Obiano's antecedent as an accomplished banker of repute and a great juggernaut in the finance industry. In other climes, people like Okorocha cannot ascend to the high office of governor. This is another indication of a lacuna in our laws that should make room for the scrutiny of the antecedents of individuals who aspire to such sensitive offices. Therefore, that Rochas is a governor today in Nigeria is indeed an insult on our collective psyche.
On the other hand, Obiano was not just a banker but he reached the apogee of his profession and retired as director of one of the nation's leading banks. It was these credentials that the people of Anambra saw that they beckoned on him to serve in a higher capacity and not the so called godfatherism narrative that Okorocha is promoting.
Let it be emphasized that Governor Obiano has not only been paying and increasing workers emoluments, he has also introduced credible palliative measures to mitigate the suffering of Ndi Anambra from the current economic recession, but for Okorocha, instead of facing the serious task of assisting his people to come out of poverty he specializes in erecting Christmas trees worth over ten million naira during the yuletide. His unguarded utterances have also undermined his position as governor.
Prince Oliver Okpalla, SA, Strategic Communications to Governor Obiano
GOVERNOR Obiano spoke to justify  or authenticate the general impression about him that he is an aggressive governor, who should have done better as a militant than as a governor. Obiano has been governor for almost four years while Okorocha has also been governor for five years now. Let Obiano publish his achievements in Anambra State even with high IGR, and let Governor Okorocha also publish his achievements in Imo. Then, we take off from there. We challenge journalists from the South-East to embark on project tours of Imo and Anambra and make their findings known to the public. Obiano no doubt, has taken Anambra State several kilometres backward, while in Imo, Okorocha has raised the bar of leadership or governance. To say the least, comparing Okorocha with Obiano is like comparing Messi of Barcelona FC with the left wing player of Mberi Secondary in Mbaitoli LGA of Imo State.
In fact, beside politics, Nigerians have known Okorocha even long before now as a successful businessman, an outstanding philanthropist, an orator par excellence, but what should one say about Willie Obiano except that some godfathers brought him from nowhere and made him governor. Anambra State that produced the first Nigeria president needs a digital governor and not an "analogue" governor or one who staggers thinking about which leg to put forward first. Finally, in Imo we do not have the record or culture of insulting people, but we do not shy away from undue provocation or undue attacks.
•Mr. Sam Onwuemeodo, Chief Press Secretary, January 31, 2017
To us in Imo, we saw that statement as callous especially when it was from a governor. And we had no option than to react to it to prove that such careless statement was uncalled for. We then challenged Obiano to publish his achievements in Anambra State for four years and let Okorocha publish his own achievements in Imo for five years since leadership is all about service to God and service to humanity.
And instead of doing that, Governor Obiano used the opportunity he would have appropriated to display his achievements in Anambra if any, to call Governor Okorocha names, which is neither here nor there. We still maintain our challenge on Governor Obiano to publish his achievements as governor in Anambra and let Okorocha also do the same.
Governor Obiano should publish his achievements in Anambra as governor for almost four years to show he is a leader because leadership does not exist in the vacuum. There must be basis for that claim. Talking frivolities is neither here nor there.
•Mr. Sam Onwuemeodo, Chief Press Secretary, February 2, 2017
Governor Okorocha long before now, has paid his dues in this country and equally long before becoming governor. He is not among those elements godfathers carried on their backs to the governorship seat and they are just there void and not adding any colour to the whole thing.
Mr. Sam Onwuemeodo, Chief Press Secretary, February 2, 2017