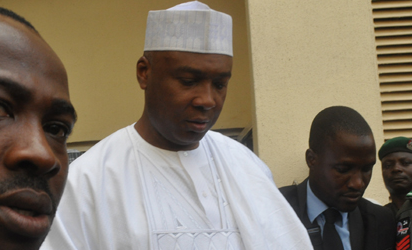 Bukola saraki
By Ikechukwu Nnochiri
ABUJA – The Federal Government, on Thursday, re-arraigned the Senate President, Dr. Bukola Saraki, before the Code of Conduct Tribunal, CCT, in Abuja, on an amended 18-count corruption charge.
Saraki pleaded not guilty to the fresh charge, even as the tribunal headed by Justice Danladi Umar, gave the third prosecution witness, PW-3, Mr. Samuel Madujemu the nod to narrate how FG uncovered discrepancies in assets he declared to the Code of Conduct Bureau, CCB.
The witness is the Chief Admin Officer at the CCB. He was the head of investigation Division under the Department of Intelligence, Investigation and Monitoring, that joined the Economic and Financial Crimes Commission, EFCC, to probe Saraki's assets.
It will be recalled that the Senate President was initially docked before the tribunal on September 22, 2015, on a 13-count charge.
He was latter re-arraigned on April 28, 2016 after FG increased allegations against him to 16 counts.
FG had alleged that the defendant made false/anticipatory declaration of assets, operated foreign accounts while in office as Kwara State governor between 2003 and 2011, as well as collected governorship salary four years after his tenure had elapsed.
In the amended charge that was read to the defendant on Thursday, FG, alleged that he had while in office as governor of Kwara state in 2007, failed to declare his interest in No. 15 Mc Donald, Ikoyi, Lagos, a property he acquired in 2006 through a company, Tiny Tee Limited for the sum of N165million.
It said the defendant, on or about the September 16, 2003, while in office as a governor, made false declaration by claiming ownership of No 15A & 15B Mc Donald, Ikoyi, Lagos through Carlisle Properties Ltd in the year 2000, when the said properties was in actual fact sold by the Federal Government to G & C Real Estate Properties and Investment Company Limited in 1997 for the sum of N12million.
In count four and five of the fresh charge, FG, alleged that Saraki, whilst being a public officer, on or about June 3 2011, falsely declared his assets at the end of his tenure as a governor and on his assumption of office as Senator in the same year, when he declared that he acquired No 17A and 17B Mc Donald, Ikoyi, Lagos on September 6, 2006, from the proceeds of sale of Rice and Sugar commodities, whereas he acquired the said properties with aggregate sum of N497.2million, through a loan he obtained from Guaranty Trust Bank Plc.
FG alleged that contrary to section 15(1) & (2) of the CCB and Tribunal Act, Cap C15, Laws of the Federation of Nigeria, 2004, Saraki, at the end of his tenure as governor in 2007, failed to declare his outstanding loan liability of N315, 054, 355. 92 out of N380million loan he obtained from GTB on February 5, 2007.
The defendant was also accused of failing to declare his ownership of Plot 2A Glover Road, Ikoyi Lagos, which he acquired between 2007 and 2008 through Carlisle Properties Ltd from the Central Bank of Nigeria for the sum of N325million, as well as not declaring that No 1 and 3 Tagus Street Maitama, Abuja belongs to him.
The prosecution told the tribunal that as a governor, Saraki, in 2008, transferred the sum of $73, 223. 28 to a bank account he operated outside Nigeria.
Saraki allegedly failed in his second tenure as Kwara State governor to declare his interest in an American Express Bank, New York card No. 374588216836009 through which he transferred $3.4million between August 2009 and October 2012 from his GTB domiciliary account No 441441953210 to the American Express Services Europe Ltd No. 730580 for onward credit to the said card account.
Led in evidence by the prosecution counsel, Mr. Rotimi Jacobs, SAN, the witness told the tribunal that Saraki had in his capacity as a governor, made several cash lodgements running into billions of Naira into his personal accounts.
He said the cash lodgements were in excess of Saraki's salary as a governor.
Asked if public officers are permitted by the law to operate private business ventures, the witness said:
"My lord, public officers are only entitled to engage in farming. Governors are not permitted to engage in sales of Rice and Sugar".