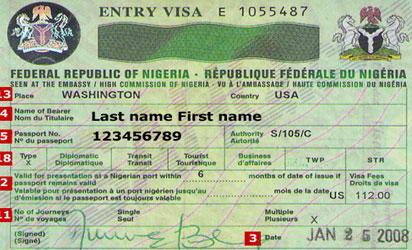 Nigerian visa
Lagos – The Canadian Deputy High Commissioner in Lagos, Mr Lajos Arendas, on Wednesday said that it was imperative for Nigerians to know of the non-existence of any Canadian Visa Lottery.
Arendas said in Lagos that his government had never been involved in any form of Visa Lottery programme, and that it was currently non-existent.
There had been rumours and speculations among Nigerians, that the Canadian Government had opened up its Visa Lottery programme for Nigerians and other countries.
"This is false information. In fact, the U.S. used to have, and perhaps still do, but Canada does not have a visa lottery programme.
"As far as I know, it has never existed in Canada. At least, certainly not in my 24-year career.
"It looks like some people are spreading rumours, and these could be linked to a possible scam.
"The one thing you could tell the public is that you contacted me and I firmly stated that there is no such thing as a Canadian Visa Lottery,'' he said.
Arendas, referring to the High Commission's Immigration Department website, said that it was important for Nigerians to know that what does not exist in the site does not exist.