By Nwafor Sunday
The senator representing Bayelsa east, senator Ben Murray-Bruce advised members of the people Democratic party (PDP) to form a unifying force with the new legitimate chairman of the party, Ali-Modu Sheriff, in order to  safe guard and preserve the interest of the party.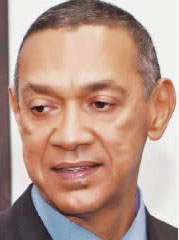 It was reported on Friday that Modu Sheriff whose case was in court with Markarfi was however declared the legitimate chairman of the PDP by the Port Harcourt division of the appeal court.
Following some comments whooshing from the various mouth of Markafi's camp, senator Ben Bruce has said the "bickering is childish and irrelevant."
He equally said in a statement that if such continues, the opposition party will be in Jeopardy and heads towards destruction. "To respect the judgement of the appeal court is what will keep PDP alive and away from ruining", he said. "I am not in support of any litigation; the present bickering is childish and irrelevant".
"Let's work with Ali Modu Sheriff and go to a convention. Abiding by the judgement of the court will be our savior".  I am calling to an end to this fight between both camps; I support Ali Modu Sheriff because it is the only way to preserve our party. " Furthering his advice Bruce, said enough is enough, let PDP unite, we are in-formidable and have no opposition in this country.