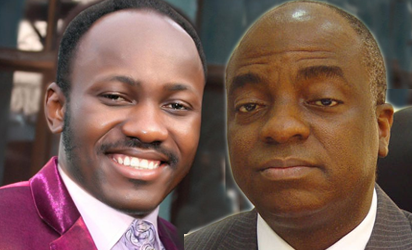 Apostle Johnson Suleiman and Bishop David Oyedepo
By Emmanuel Elebeke
ILORIN— The Federal Government, yesterday, pleaded with religious leaders to avoid comments which can lead to religious war.
It also clarified that there was no plan to Islamize the nation or subject Christians to any form of persecution.
The government said it suspected that crises between Muslims and Christians used to be driven by political motivation, ethnic differences, extremism, intolerance and terrorism.
The Minister of Information and Culture, Alhaji Lai Mohammed, who made the clarifications at a Town Hall meeting for North-Central in Ilorin, denied that the military was being used to arm Fulani herdsmen to kill Christians.
He asked the local and foreign media to shun the reportage of inviting statements by religious leaders.
Mohammed said: "Without equivocating, let me say that a lot has been achieved by this administration, despite the challenges that we have faced since assuming office. But whatever has been achieved in all spheres will pale into insignificance if there is no peace in the country.
"And there is no bigger threat to the peace and unity of our country today than religion-coated incendiary messages, which are being carelessly sent out there by some religious, political and opinion leaders."
No plans to Islamize Nigeria
The minister faulted allegations that the government was out to Islamize Nigeria or persecute Christians.
He added: "Such fallacies like the Islamization of Nigeria, the killing of Christians by Muslims, the labelling of Nigeria as the most dangerous place for Christians in the world can only serve one purpose: trigger a religious war. Needless to say that no nation ever survives a religious war.
"Those who are making these allegations know that they are not true, but they have found in religion another tool to demonize the government of the day, divert attention from the government's anti-corruption stance and create undue tension in the polity.
"Make no mistake about it, there have been conflicts between adherents of the two major religions in certain parts of the country. To now extrapolate from that to say Nigeria is the most dangerous place for Christians in the world is a disservice to Nigeria and an overkill.
"What those who are pushing this negative narrative about Nigeria do not know is that if they succeed in giving Nigeria a bad name in the comity of nations, they too will not escape the consequences that will result therefrom.
"The alleged Islamisation of Nigeria under the current administration is totally false and should be perceived in its entirety as a campaign of calumny.
"The secular nature of Nigeria's Constitution makes the issue of religious dominance and impunity improbable."
Military not arming Fulani herdsmen to kill Christians
He said the government considers it ludicrous to claim that the nation's military was arming Fulani herdsmen to kill Christians.
He said: "Before I end my speech, let me appeal to the media to desist from providing a platform for exponents of incendiary statements, those who will latch on to religion and ethnicity to divide us, and those who have no qualms about leveraging their privileged positions to give Nigeria a bad name in the international community."
"Their foreign collaborators, including a section of the international media, have even gone as far as accusing the Nigerian military, a symbol of the country's unity, of arming Fulani herdsmen to kill Christians, as if the army is made up of officers and men from only one religion.
"The Federal Government rejects this ludicrous and nonsensical accusation against the military and warns those behind it to desist forthwith."