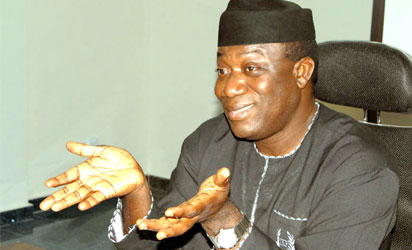 Fayemi: I am ready to defend my actions
The All Progressives Congress (APC) in Ekiti State has described the arrest warrant issued against former Governor Kayode Fayemi, who is the current Minister for Solid Minerals Development, as a joke taken too far.
Responding to the development in a press statement in Ado-Ekiti, APC's spokesman,Taiwo Olatunbosun, described the lawmakers as a set of idle certificate forgers who are being pushed into issuing a bench warrant against Fayemi by Governor Fayose who has usurped their powers by declaring himself the Speaker of the House of Assembly.
Olatunbosun challenged the lawmakers to move freely on the streets of Ado Ekiti or their constituencies where they have lost all support. "Most of them are in hiding in the Government House because security agents are looking for them to answer charges on certificate forgery and so it is baffling that suspected criminals wanted for certificate forgery would be the ones being lined up by Governor Ayodele Fayose to help him divert attention from alleged serial crimes by issuing arrest warrant on an innocent man over trumped-up charges.
"We wonder when it becomes the lot of fugitives to sit in judgement to persecute an innocent, law-abiding citizen and responsible leader like Fayemi," he said.
He added: "This is the kind of Assembly you get when characters such as the present members who are handpicked by Fayose because they have sordid records that suit his equally dubious agenda.
"The APC wishes to state clearly that Dr. Fayemi is too busy and focused in his national assignments to be distracted by a bunch of loafers.
"We warn that any attempt to embarrass Dr. Fayemi in any form would not be taken lightly by the party," he concluded.