Rivers State Governor, Nyesom Ezenwo Wike has advised the APC National Leadership to forget about rigging in Rivers State as the people will always resist their evil machinations.
The governor also stated that Rivers State remains a PDP State where the people are satisfied with his development strides which revived the state after the immediate past APC administration squandered state resources without tangible development.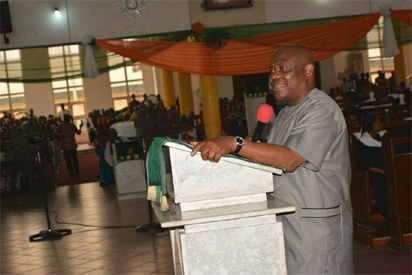 According to Simeon Nwakaudu, Special Assistant to the Governor, Electronic Media, the governor stated this at a Special Thanksgiving Service and dedication of awards bestowed on him by the Christian Association of Nigeria, Sun Newspapers, Authority Newspapers and Independent Newspapers on Sunday at the Saint Paul's Anglican Cathedral.
Governor Wike regretted that APC leaders continue to fight against Rivers State to the extent of trying to stop Sun Newspapers from enthroning him as Sun Governor of the Year, 2016.
Governor Wike said: "They should forget about this state. No matter the level of security force, they will not be able to snatch Rivers State ".
He, however, commended the security agencies who covered the Etche/ Omuma Federal Constituency elections for being professional , despite the pressure from the APC National Leadership.
He also lauded INEC for standing firm for the first time. He noted that INEC attempted to redeem its battered image with the Etche/ OmumaFederal Constituency Election and the Etche State Constituency Election.
According to him: "Whenever a free and fair election is conducted in Rivers State, PDP will win. There is no other party here in Rivers State. "
On his superlative performance, Governor Wike stated that his delivery of pro-people projects stems from the fact that he is focused despite the distractions from the Federal Government and her agencies.
He said that the progressive development of Rivers State is a function of determined application of scarce resources.
The governor said: "Some many APC leaders from Rivers State are very bitter that we are succeeding where they failed. They got between N23billion and N27billion monthly , but have nothing on ground to show for their 8 years in government.
"We get between N6billion and N7billion during a period of recession, yet we have transformed Rivers State. By the time we finish our first term, Rivers people will know the true meaning of good governance ", he said.
He commended political leaders, Rivers State House of Assembly and other stakeholders for supporting the success of his administration.