By Ifeyinwa Obi
Lagos—The Apapa Area Command of the Nigeria Customs Service has admitted that the container carrying 661 pump-action rifles by the Federal Operations Unit, FOU, A, Ikeja of the Nigeria Customs Service, NCS, in Lagos last week was smuggled out of the ports without proper clearing process.
Speaking at the command yesterday, spokesman of the Apapa customs command, Mr. Emmanuel Ekpa  confirmed that neither physical examination nor scanning was conducted on the container before it exited the Lagos Port.
Stakeholders at the port have however confirmed further to Vanguard that the case of the 661 rifles was not the first where containers exit Apapa port without being examined.
Ekpa said that the Area Controller of Apapa Customs had summoned the terminal operator; APM Terminals and the later had confirmed that the said container was not among those dropped for examination.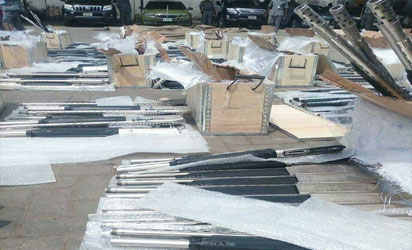 In May 2016, the Assistant Inspector General of Police, Maritime Command, Musa Katsina, intercepted a truck conveying a 40-foot container that he alleged was moved out of the ports at midnight.
The container when examined contained used tyres that were not declared and used vehicles that were under declared.
He said, "This said container was not dropped for examination. I can authoritatively tell you that no examination was conducted and It was not among the list of containers to be  examined the day it was released.
"When containers are brought in, it will be brought for examination or scanning to determine what it contained but nothing of such was done on this."
When asked why it was released by the command when it was not scheduled for examination, he said, "only investigation can reveal why the container was released without scanning or examination," he told our correspondent.
" The list of all container booked for examination each day are being transmitted to customs, if APMT is to drop 200 containers in a day, it would be electronically transmitted to customs with the container numbers and officers will go for examination."  Also, contrary to insinuations that the container was meant for fast track, Ekpa said it was a normal container.
Meantime, clearing agents operating at the Apapa port have accused Customs officers of complicity  whenever containers leave the port without proper examination.
The Coordinator, Save Nigeria Freight Forwarders Importers and Exporters Coalition, SNFFIEC, Ositachukwu Patrick said the command was notorious for container "flying."