By Omeiza Ajayi
Former Governor of Akwa Ibom State and one of the leaders of the Pan Niger Delta Forum, PANDEF, Obong Victor Attah, in this interview speaks on the state of the nation and urged the Federal Government not to sit on the 16-point demand of the Niger Delta. He also chided ex-President Olusegun Obasanjo for calling for Igbo presidency in 2019. Excerpts:
Being the concluding part of the interview with former Governor of Akwa Ibom State, Obong Victor Attah. The first part was published on Monday February 6. Former President Olusegun Obasanjo recently canvassed for an Igbo presidency in 2019 even when the North still feels their turn has not lapsed…
I asked the question and they said the decision for a second term for Obasanjo was not going to be taken through voice vote that we were going to speak one by one and I am going to name names because one person stood up and said yes, he should have a second term and many others followed suit.
I stood up and I asked, what was the hurry all about? We are a family, we are a party, why don't we wait till then and when we get there (primaries) we would decide who was best to pick our ticket and I said that was what we should do. Why the rush to now predetermine who would be our flag-bearer? Why must we agree on this second term now?
Then, former Governor of Kaduna State, Alhaji Lawal Kaita, stood up and said, 'if we agree that Obasanjo should have second term, when it is the time of the North, would you allow the North to have two terms?' The whole house echoed, yes! Did it happen? No.
That was where the division in Nigerian politics came in. Why was it that when Yar'Adua died, since he was Obasanjo's choice for the North and the North accepted him, sick as he was, why was it that when he could not even complete one term, the North was not allowed to complete that term or even go ahead to have a second term? We took it from the North. Would you be happy if it was you?
Today, the North has got the presidency since we have now decided, yes to second term before the north can even have a second term, you are suggesting Igbo. Is that not divisive? So, I do not see that thing (Obasanjo's advocacy) as being sincere. I think it is a means of just creating further confusion in this country.
People should ask him why he wants to be divisive, but if he says he is not divisive, let him bring out the logic.
The Transmission Company of Nigeria, TCN, said there is resurgence of attacks on gas installations. What could be responsible for such attacks?
I do not know whether there is resurgence of attacks or it is just incompetence or by reason of old pipes.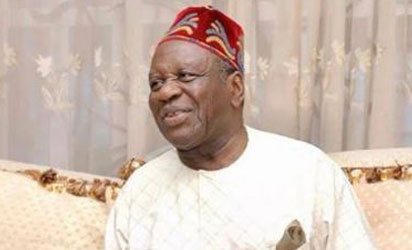 Guarantee of payment
See, when I was governor and I wanted too build a power plant, I went to the European Union and I went there not only with a power purchase agreement, I even had a guarantee of payment, which really surprised even Dr Ngozi Okonjo-Iweala but they still would not come. Why?
The problem is nobody guarantees constant regular supply of gas to those turbines but the bank that lends you money is not interested in that. Once they give you money, the interest starts to run. If somebody disrupts the gas supply that is not their business.
So, the problem comes down to who owns the gas? Nigeria owns the gas. Can Nigeria guarantee the supply of the gas? Nigeria cannot guarantee the supply of the gas. Unless we actually go back to fiscal federalism. If that gas belonged to or was seen to be the resource of a particular state and the state depended on that gas for its survival, that gas would flow because she must sell that gas to survive. There is no way she would allow anybody to interrupt that gas and all of these talks about secession would end. Even this talk about diversification. Who is going to diversify? How can the federal government diversify? It does not have the ability to do so because it does not own the territory.
Generate your own money. The minute you say that, you would see diversification.
People with minerals beneath their land that they are not touching, those minerals would come up because they must generate profits from them. The land that is lying fallow somewhere, you would see that they would put it to agriculture.
Facilitator of growth
I said recently on a television programme, we must see this business of fiscal federalism as the facilitator of growth and diversification. It is the root of development. Let us change our attitude towards fiscal federalism and accept the fact that it is a developmental philosophy.
It is the only thing that can help this country to grow and develop.
But when you say you would build power, build roads and then that "you" translates to federal government, then I say you are wasting time. There is no federal government in the world that can do it.
PANDEF met with the president late last year. How far, so far?
I have my views on some of the things that are happening between the presidency and Pan Niger Delta Forum. I believe, and I may be wrong, that there are two types of people who were trying to discourage the federal government from dealing with PANDEF. Those who think that "Oh, why are you kowtowing to these people? You have the military might, just go in there and finish them".
Well, that is entirely possible. That military might, nobody can deny it. They have demonstrated it effectively even against the Boko Haram but try it with oil. Just disrupt oil for one minute. Before you get it to flow again, the effort you make in convincing people to come from outside again, contracts for the projects of your oil would stop and so on.
Therefore, you cannot disrupt the flow of oil. It is the wrong option to say government should go there and finish up the place.
Then, there are others who wanted the leadership positions in PANDEF and they did not get them. So, they are telling the federal government, 'do not encourage this PANDEF'. And that is from a very personal and selfish point of view. There may be yet others who want to be the heroes, to say they were the ones who did this and not PANDEF and they are telling the federal government they would show them how to handle the Niger Delta.
In the final analysis, just as there is Afenifere, which you must respect as a strong voice for the Yoruba in the South West; just as there is the Arewa Consultative Forum, which you must respect as a strong voice for the North; the Ohanaeze Ndigbo is a strong voice for the Igbo in the South East. You must accept and learn to respect PANDEF as the one strong voice for the people of the South-South. And I thank God that in the final analysis, the vice president went.
Point demands of PANDEF
I did not go, but I understand that every address that was read, people were saying go and talk to PANDEF. Right there in front of everybody, the vice president said they had adopted the 16-point demands of PANDEF. What does that mean? How have you adopted it? We said discuss the points with us. I want to believe he meant they have adopted it for discussion. So, what we are expecting to happen now and we believe it should happen very quickly before everybody's patience runs out is that they should set up their dialogue team to dialogue over these 16 points and come up with solutions that would help the Niger Delta and the country.
You talked about herdsmen earlier on. How about contemplation about building grazing reserves for them?
I do not want to get into controversies here but there is a place in Cross River called Obudu Cattle Ranch. What is that? And it is in the South-South and one of the biggest and best known cattle ranches. So, what has changed? There is a street in Lagos called Malu road, obviously meaning cattle. Cows used to be transported by trains. Why can't we sit down and think. Cows don't do well in the South because of Tse-Tse fly. We have to sit down and think of a way to make sure they feed well and that they are transported properly without interfering with people's farms.