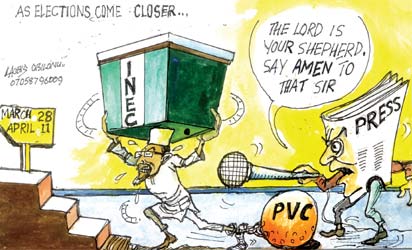 By Emmanuel Aziken, Political Editor; Emman Ovuakporie, Johnbosco Agbakwuru & Omeiza Ajayi
ABUJA—An estimated N1 trillion was spent by the Independent National Electoral Commission, INEC, political parties and candidates for the 2015 elections, it was revealed, yesterday.
The revelation, at a two-day Learning Conference on the Regional Cost of Politics, immediately drew strong disapprovals from concerned stakeholders with assertions that the high cost was the bedrock of the corruption that pervades the political system. Among those who flayed the high cost of elections were legislators, Dr. Abiola Akiyode-Afolabi, President of the Transition Monitoring Group, TMG and Mr. Ibrahim Musa, Executive Director of the Civil Society Advocacy and Legislative Centre, CISLAC. Some in the House of Representatives, however, described the high figure as provided by INEC as unrealistic as they put the blame on civil servants, who they claimed, inflate the cost of elections to their benefit.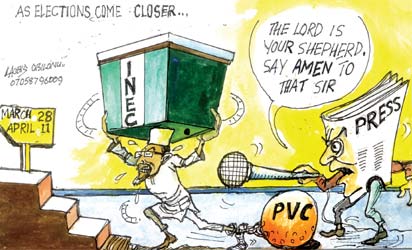 It was revealed at the conference that the Peoples Democratic Party, PDP, expended N8.74 billion in traceable media and other related expenses in the 2015 elections while all the other opposition parties expended N2.91 billion for similar activities.
Chief Technical Adviser to the INEC Chairman, Prof. Bolade Eyinla disclosed at the opening of the conference organised by the Westminster Foundation for Democracy that the "core cost" of the election as represented by expenditure by the commission and related institutions was $547 million, while total cost, including expenses by political parties and their candidates, was between $1.5 billion and $2 billion.
"In the last general elections in Benin Republic, the core cost was $15 million, and then you had a candidate who, alone, spent about $32 million.
"In Nigeria, our core cost was $547 million. It is perhaps the most expensive elections that we have ever seen. I have seen figures somewhere of between $1.5 billion to $2 billion and believe me; it is true if we knew what happened. In one scandal, we heard of $115 million", he said.
Eyinla also disclosed that 75 political associations have now applied to INEC for registration as political parties, saying existing laws do not give INEC the latitude to restrict the political space to fewer parties.
In her remarks, an INEC National Commissioner, Prof. Anthonia Simbine said the level of money in politics "is responsible for the kinds of governance we have at any given time. If you make an investment, you would want to reap from that," she said.
According to her, some political parties have been angling for public support, saying there is no existing legislation to back that.
On party financing, she said: "We have existing limits in the legal framework, but this has become somehow very unrealistic because there are no enforcement framework or capacity when people do what they are not supposed to do. This is more because our society is cash-based and so the capacity of INEC is still very weak in tracking and monitoring party financing.
"A review we did in 2015 showed that there is largely no record-keeping, including keeping receipts of financial support by political parties."
Cost higher than 2011 polls
Country Representative of the Westminster Foundation for Democracy, Adebowale Olorunmola, noted that the cost of the 2015 election was higher than that of 2011.
"In 2011, all the opposition parties put together spent N2.04 billion in traceable expenditure, while the then ruling Peoples Democratic Party PDP spent N5.01 billion. In 2015, all the opposition parties spent N2.91 billion while PDP spent N8.74 billion," he said.
According to him, these are traceable expenses which were spent on media advertisements, campaign materials among others, to the exclusion of money spent in underhand dealings and the use of state-owned facilities including stadia for campaigns and other political activities.
Earlier, Regional Director, Africa, and Europe of the Westminster Foundation for Democracy, George Kunnath, urged countries in the region to critically examine the overall cost of politics, saying it has negative implications for the independence and performance of legislators. Reacting to the revelation on the humongous amount spent on the 2015 election, Mr. Musa, executive director of CISLAC said the huge amount expended on elections was a direct correlation to the spate of corruption. According to him, politicians who break the bank to win election give priority to recovering their election expenses ahead of any other thing once in office.
"This revelation is very worrisome in the sense fact that the cost of election in Nigeria is becoming outrageous and ridiculous, and that is what is accelerating corruption in Nigeria because when people spend this kind of money to win elections, the first thing they do is to recover the money they have spent and that is why people and development suffer as a result."
Also speaking, Dr. Akiyode-Afolabi, the TMG president called for a cut down on logistics and other deployments which she said tend to increase the cost of elections.
"One of our concerns is that Nigeria invests so much in elections and there is the need for INEC and the government to begin to look at how to reduce the cost of elections. Even if you look at the cost of producing voters cards and you put it across for all eligible voters, you will see that it is a huge amount of money, whereas these same people also have national identity cards or some other cards.
"On the day of elections, huge amounts of money are used to bring policemen, ad-hoc staff, trainings, so there is a need for us to have a cost effective elections and that can be done if we cut down some of these."
Some members of the House of Representatives also commented on the issue.
Figure is over bloated by civil servants
Rep Patrick Aisowieren of Orhionmwon Uhunmwode Federal Constituency of Edo State (APC) said "the money is too much. Most of the things by civil servants are fictitious; they are not properly monitored. The figure they give is amazing. What the government should do is to put machinery on ground to make sure what they spend is being monitored so that the actual amount during elections will be known. The figure is over bloated."
It is a Nigeria problem
Rep Gogo Bright Tamuno, Okrika/Ogu/Bolo Federal Constituency, Rivers State, PDP said: "Ordinarily what it will take another country to conduct elections will be 10 per cent of what we spend on an election. Even in our neighbouring country Benin Republic, they had their general elections not too long, and I was privileged to witness the election, and you see that the electoral personnel moved freely on even tricycle or motor cycle to take electoral materials from one place to the other without anybody attempting to snatch anything.
"You hardly see policemen following electoral personnel because they see it as their civic responsibility. But here in Nigeria, an election is like a war where you deploy 30,000 policemen in one state to conduct a re-run election. You can imagine how much it will require for the logistics, transportation, feeding and other things that will take care of 30,000 policemen. "
It's difficult to evaluate – Rep Enwo Igariwey, PDP, Ebonyi
"It is difficult to evaluate the figures coming out of INEC without a deconstruction and forensic examination of the items and programmes under which the sums of money were spent."
The sum is unacceptable to me—Akpatason
Reacting on the alleged huge sum spent in the 2015 elections, Chairman House Committee on Civil Society Organisations, Rep. Peter Akpatason said: "In the first place, to look at whether the figure is proper or not, we have to look at the size of the country, the volume of activities involved in the elections and all the factors put together.
"Secondly we need to look at what was spent in the two, three four previous elections and see the percentage change in the political demographics of the country that is if we want to do a thorough analysis before coming into conclusion.
"But if you look at the figure in isolation of all these factors and you are looking at the economy and the level of suffering in the country today, one will conclude without looking back that that the figure is too much.
"All over the world, people are talking about the cost of election and the cost of politics in general, how the escalating cost of politics is depriving a lot of ordinary citizens from participating in politics because they don't seem to afford the huge cost involved in political activities and in elections.