By Dennis Agbo
ENUGU—Governor Ifeanyi Ugwuanyi of Enugu State yesterday flagged-off an empowerment scheme in which 1.2 million genuine traders of the state will be empowered annually to expand their businesses.
The scheme comes with a package of N60 million annually, with the state government releasing N5 million monthly to be won by 100 lucky winners through an open digital raffle draw.
Each winner by implication will get N50,000 for investment into his or her business.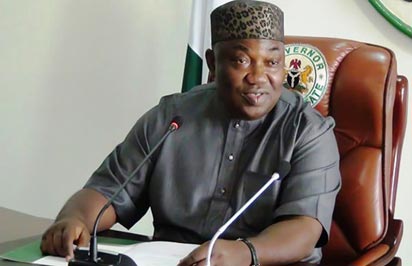 Ugwuanyi, while flagging off the scheme, noted that the gesture is "yet another effort by the state government to boost economic activities in the state and improve the lot of the ordinary members of the society in line with our promise to deploy government resources and services to create fair and equal opportunities for every willing citizen to make a living, create wealth and enjoy life in a peaceful and secure environment"
The governor added that "the state government will provide the sum of N5 million every month to support the scheme while the winners will be drawn from 37 select markets spread across the three senatorial districts of the state, taking cognisance of  the population of traders in each market." also taken into consideration.
He added that the venue of the draw will rotate among the three senatorial districts of the state, saying that winners of the lottery are expected to invest the money into their various businesses and help promote all round economic growth in the state.
President -General of Enugu State Amalgamated Market Traders Association, Hon. Temple Ude, while applauding Governor Ugwuanyi for his vision and commitment to the well-being of the traders in the state, noted that "Enugu State now has a leader that not only provides enough food for his people but also creates programmes that develop the state and empower the traders".
Hon. Ude also commended the governor for   providing critical infrastructure in some major markets in the state,   especially the road network in Ogbete Main Market, saying that the link his administration has built between the government and traders has strengthen and rekindled the people's confidence in participatory democracy.
"Your Excellency,  God raised you from your modest background in order that you might provide the required purposeful servant leadership for your people. It is n