By Chioma Onuegbu & Emmanuel Ayungbe
UYO—COUNSEL to Uwem Okoko, Managing Director of Hensek Integrated Services which did the landscaping of the collapsed Reigners Bible Church Int'l Uyo, Mr. Akpakan Okoho, has accused the principal witness, Apostle Akan Weeks, of lying against his client in his oral testimony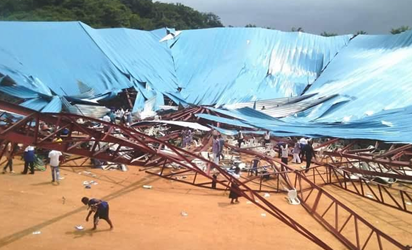 Okoho, while speaking to newsmen after his testimony before the commission yesterday, claimed Weeks lied against his client in his testimony simply to exonerate himself in the tragic building collapse.
He explained that his client was introduced to Weeks in 2014 by somebody after which Weeks asked Okoko to assist him to build his church and he declined because he was only into road construction as a civil engineer.
According to him, his client only assisted Weeks by introducing the roof designer, Architect Abimbola Oke on request.
He said: "My client Umen Okoko, the Managing Director of Hensek Integrated Services has testified and all he told the commission is the whole truth including the lies that Apostle Akan Weeks has attempted to cover up in order to be exculpated in this matter."
Somebody, sometime in 2014 introduced him to Okoko and he asked Okoko, to help him build his Church and Okoko said, no, I am not a house building contractor, I am a Civil Engineer. Then Weeks asked Okoko if he could introduce somebody to help him design the place, that was how Okoko contacted Arc Abimbola Oke who has been Okoko's professional friend and introduce him to Weeks.
"At the police station weeks said Okoko was never his supervisor, that Okoko was never his contractor but when Weeks was testifying orally knowing too well that Okoko and his lawyer were not present in court he came and lied. It was a very shameful thing.
"There are so much lies that have been told by Apostle Akan Weeks.    He lied that my Client Okoko was the contractor in  the Church building when Okoko was never the contractor. The only person that he contacted for the purpose of the construction work is the man that fabricated and installed the roofing for the building. There is no need lying. If I were in his shoes I will go on air and apologise to the people for all that he has caused. Many families that were affected are still weeping and he is trying to cover up. But we have applied to the Commission to recall him so that we can re-examine him and of course the Commission has graciously in line with the rules granted our application.
"So any time from now, Apostle Weeks is going to be in Court again for us to confront him on those oral testimonies he made against Uwem Okoko. In his written testimony he said nothing about Okoko. He did not say that Okoko was his Contractor or supervisor.
During the cross examination, Uwem Okoko who said he would not answer any questions in connection with the building construction because his company was not part of the building work however noted that they only handled the landscaping work which is not part of the building construction.
He noted that from to time he assisted the Church with Bulldozers, Graders and compacting equipment they used at the construction site.