By Chioma Onuegbu & Emmanuel Ayungbe
UYO— THE founder and General Overseer of the collapsed Reigners Bible Church, Uyo, in Akwa Ibom State, Apostle Akan Weeks, has absolved himself of any blame in the tragic event of December, 10, 2016, which claimed several lives.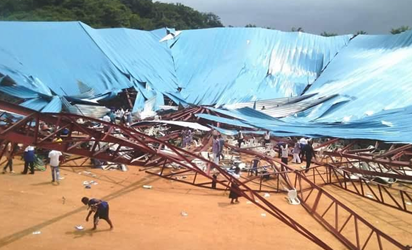 Weeks spoke yesterday while testifying before the ongoing commission of inquiry investigating the cause of the collapse, insisting he would not take the blame for the unfortunate incident.
"The fault is not mine and I cannot agree that I am the cause. I will not apologise for something I cannot own up to," he said.
Weeks had on Monday told the commission that he received approval for the building construction from the Uyo Capital City Development Authority, UCCDA, in principle through a telephone call.
He said he first applied to the UCCDA in writing in October 2014, and was later given a verbal approval by a staff of the UCCDA, he identified as Etido Ekerete Udoh, during a telephone conversation, to go ahead with the construction.
According to him, he paid N300, 000.00 as approval fee after submitting all the documents demanded from him.
Weeks, howeve, told the commission that he was surprised that a representative of the UCCDA, and town planner, one Effiong Akpan, last Friday while testifying, alleged that the Reigners Bible Church never applied nor received approval for the construction of the church building.
He said: "I was surprised on Friday when the Town Planner of UCCDA, Effiong Akpan, told this commission that I never applied. I applied to the UCCDA in October 2014 with all the documents that they demanded. It was after submitting all the necessary documents that I was asked to pay N300, 000.00 as approval fee. A staff of the UCCDA Etido Ekerete Udoh was asked to follow me to my office where I paid him the money in cash. There were other documents that they demanded which I gave to them like the survey plan and the structural design."