By Luka Binniyat, Omeiza Ajayi, Joseph Erunke, Caleb Ayansina
The Federal Government, yesterday, launched a bitter but indirect rebuke on the Christian Association of Nigeria, CAN, as well as the Catholic Church over comments by both bodies regarding the wave of ethno-religious crisis in the Southern part of Kaduna State.
In a strongly-worded statement, the Minister of Interior, Abdulrahman Dambazau, said: "True religious leaders do not fan the embers of hate, but ensure that communities live in peace and harmony."
Meanwhile, the Senate President, Dr Bukola Saraki, has said that the senate would commence investigation into the latest killings in southern Kaduna State.
But CAN, Kaduna State branch, yesterday, reacted angrily to the suggestion by Danbazau that Christian leaders in Kaduna State were fanning the embers of hate and religious intolerance by insisting that the killings going on in Southern Kaduna was religious in nature.
Kaduna CAN said to the Minister: "Shut up if you have nothing to say."
Similarly, Rev. Musa Asake, the General Secretary of National CAN, in a telephone interview, said it would be an unfortunate thing for a Minister like Dambazau to say that the Christian leadership in the country was fanning the embers of hatred.
He said CAN did not exaggerate the killings as being accused.
"We have to say things (the way they are) when they are not going well. We are not fanning embers of hate as the minister suggested. How can somebody be talking like that? We do not exaggerate or say negative things like some people."
Dambazau in a statement by his Press Secretary, Ehisienmen Osaigbovo, yesterday, was reacting to statements credited to the national leadership of CAN and the Catholic Church in Southern Kaduna, accusing Islamist herdsmen of trying to wipe out the Christian-dominated and largely agrarian communities in the area.
The Dambazau statement
The statement said: "The Minister of the Interior, Lt Gen Abdulrahman Dambazau (retd), has called on all well-meaning Nigerians not to allow themselves to be dragged into religious conflicts. He observed that this has become necessary following insinuations that the criminal violence in Southern Kaduna has some religious interpretation.
"He said there are people who are always looking for ways to further create division along religious or ethnic fault lines for their selfish interest, with the aim of creating instability in our internal security. Accordingly, the Minister posited that true religious leaders do not fan the embers of hate, but ensure that communities live in peace and harmony. In this connection, he maintained that economic growth and development will remain a mirage for Nigeria, with over 500 ethnic groups and multiple religions, unless we resolve to live amicably as a people with common destiny.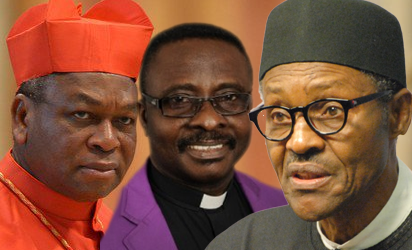 "Dambazau said criminals, who perpetrate violence against innocent, law-abiding citizens, do not discriminate along religious and ethnic lines, citing examples of how communities in Zamfara, Katsina, Taraba, Enugu, Lagos and Niger were victimized by those violent criminals. He noted that a criminal should be treated as such, whether he is involved in armed robbery, drug trafficking, homicide or cattle rustling, and that people should avoid honouring criminals with religious or ethnic attachment.
"He advised opinion and religious leaders to refrain from giving the crisis between herdsmen and sedentary farmers in Southern Kaduna a religious connotation, rather attention should be focused on the real enemies of our Society, who illegally acquire weapons to terrorize Christian and Muslim communities alike."
Kaduna CAN reacts
Reacting to Dambazau's comment, Secretary of CAN, Kaduna State Chapter, Rev. Sunday Ibrahim, said it was better that Danbazau kept quiet since he appeared not to be interested in solving the problem, insisting that the violence was religious in nature.
He said: "The statement attributed to Danbazau came to us with the least of surprise because of his antecedence on matters like this. If Danbazau has no interest in solving our security problems, he should shut up, just like President Muhammadu Buhari has kept mute also.
"Why should Danbazzau not wait for the much talked about investigation into the massacre and bring out a conclusion that may rubbish our claim? What do you call continuous killings and destruction of  Christian communities with gunmen chanting Islamic slogans all the time? In areas where there are Muslims, such as Godogodo, Akwa, Golkofa, Gada Biyu, in Jema'a LGA, the homes of Muslims and the Muslim residents there were not touched. But not a Christian home or church is standing in the other areas. What do you call that?
"In Chaiwai, Chiefdom, Kauru, LGA, where five villages were sacked and 45 people killed in November, the survivors said the gunmen were chanting Allahu Akbar Allahu Akbar.  They shot and killed pigs  in the villages, also stole goats and grains and burnt the churches and houses there.
"We have visited some of these places and the evidence is on ground. ECWA Church addressed a press conference in Kaduna, last October or was it November, and said that all their churches in affected towns and villages had been burnt.
"The Catholic Church knows its casualties, so do Anglican, Baptist Church and the rest. The statement of Danbazzau is either to cover his shame for his refusal to stop  Jihadist herdsmen or he is out to intimidate CAN not to reveal to the world the atrocity that herdsmen are doing at cleansing Christian communities in Southern Kaduna
"As the Minister of Interior, has he ever taken a trip to Southern Kaduna to see things for himself? The first time he would be making a statement is to cast Christian leaders in bad light instead of saying comforting words to us.
Violence in Southern Kaduna religious— CAN
"CAN in Kaduna insists that the violence in Southern Kaduna is religious. Islamists want to destroy Christianity in Southern Kaduna and occupy the land. And right now, they are occupying 16 villages in Southern Kaduna with their cattle and families after terrorising out the Christian natives. Let him come and see with his own eyes if CAN is lying.
"We are still waiting for the same reaction of the Federal Government in Zamfara and Katsina just a day or two after gunmen killed several people there. We are happy they got the killers and have secured these states.
"Since April, last year, we have been shouting hoarse and pleading. All we get from the Inspector General of Police and now the Minister of Interior is that we have no right to describe the killings in its true form, while the two just sit and watch on."
Senate to investigate  S' Kaduna killings, says Saraki
Meanwhile, the Senate President, Dr Bukola Saraki, has said that the senate would commence investigation into the latest killings in southern Kaduna State.
Saraki made the announcement in a statement by his Special Assistant on New Media, Mr Bamikole Omishore, in Abuja, yesterday.
According to Saraki, the Senate will on resumption from recess on January 10, make the issue a priority.
Omishore said the senate president made the disclosure while responding to a tweet posted by one Chimeze Ukoha on the Kaduna killings.
The statement quoted Ukoha as saying that "About 800 Christians were massacred in Southern Kaduna and nobody is talking about that, very bad."
It  quotes Saraki as responding that "once the senate resumes, this issue will be addressed to get a clearer picture of what the real situation is and find a lasting solution.
"Every Nigerian life matters and the senate will work to ensure that rule of law is always upheld as prescribed by the Nigerian Constitution."
The statement explained that Saraki was already in touch with senators from Kaduna State and that he was constantly getting updates on developments.
Army approves Brigade Command in troubled area
Meanwhile, worried by the recurring crisis in the southern part of Kaduna State, especially the ongoing crisis where several lives have been lost and property worth millions of naira destroyed, the authorities of the Nigerian Army have approved the establishment of a brigade command in the troubled area.
Also, the Army authorities have directed that Camp Zero, headquarters of the dreaded Boko Haram terrorists which recently fell to its gallant troops be used as the Nigerian Army Small Arms Competition in 2017.
The development came as the Army said it has not only deployed troops to Southern Kaduna but has also taken full control of the crisis zone.
Director of Army Public Relations, Brigadier General Sani Usman, who disclosed this yesterday, at a media briefing, in Abuja, assured that full normalcy would soon be restored.
"I want to inform you that the Nigerian Army is fully deployed to the southern part of Kaduna State with directive to restore law and order and we might go beyond that.
"The Nigerian Army is fully on ground in the southern part of Kaduna State. It is our hope and prayer that the problem that requires this will be nipped in the bud.
"The Nigerian Army has made provision for military establishment in that part and any moment from now, we are going to have it."
Speaking on the Sambisa Forest proposed arms training, he said: "The Chief of Army Staff has directed that next Nigerian Army Small Arms Competition, NASAC 2017, would be conducted at Sambisa Forest. Already, efforts are on by the Nigerian Army engineers to open more routes and construct bridges into the once Boko Haram haven to facilitate easy access to the forest."
Usman said the briefing was part of the Nigerian Army " interaction to review  our last year training and operational activities which led to the final fall of Boko Haram terrorists headquarters in Camp Zairo  and subsequent subsequent presidential commendation on achieving that noble feat."
The Army spokesman, who recalled that the Nigerian Army last year conducted many training activities at all levels in addition to other training exercise conducted by the various Nigerian Army training institutions across the country, said the development led to its successes in cattle rustling, recovery of arms and ammunition as well as arrest of perpetrators of violence in various parts of the country.