*Summon Amaechi, Fashola, Sirika, Bello, COAS, Heads of Aviation Parastatals
By Henry Umoru
ABUJA— Senators yesterday kicked against the planned six-week closure of the Nnamdi Azikiwe International Airport, Abuja as they summoned senior aviation officials to explain why different options should not be explored in the course of the planned repairs of the airport runway.
Among those summoned to brief the Senate on the development were the Ministers of Federal Capital Territory Administration, FCTA, Malam Mohammed Musa Bello; Transportation, Rotimi Amaechi; Works, Power and Housing, Babatunde Fashola and the Minister of State for Aviation, Sen. Hadi Sirika.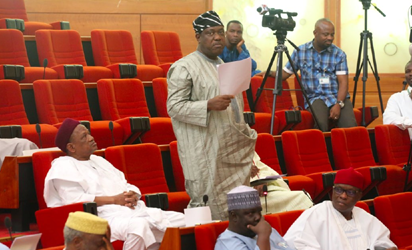 Also invited to meet with the Senate are the Chief of Air Staff, Air Marshal Sadiq Abubakar and the Managing Directors of the Federal Airport Authority of Nigeria (FAAN) and the Nigeria Airport Management Agency (NAMA).
The Senate resolution was upon a motion brought by Senator Hope Uzodinma, PDP, Imo West.
They were asked to appear before the Senate within two days (between Wednesday and Thursday) towards exploring "other options that can avoid a total closure of the Airport" and for alternative measures.
The motion was co- sponsored by Senators Ike Ekweremadu (Enugu West); Enyinninya Abaribe (Abia South); Abdullahi A. Gumel (Jigawa North-West); Fatima Rasak (Ekiti Central) and Baba Kala Bashir Garbai (Gombe Central).
Senator Uzodinma in his motion affirmed that the closure of the only airport serving the federal capital for six months "could trigger untold hardships on international and local air travellers and consequently dent the nation's image"
He then called for the exploration of all "other possible options that can avert the planned total closure of a strategic National port as Nnamdi Azikiwe Airport for six weeks with all its attendant consequences, including breach of international conventions and treaties."
All the Senators who contributed to the debate on the motion with the exception of Senator Shehu Sani, APC, Kaduna Central supported the motion to summon the aviation chiefs to proffer alternatives to the closure of the airport.
In his contribution, Sani whose constituency would see more traffic with the diversion of traffic to Kaduna argued that "we create hell for Nigeria yet, we want to live in paradise," arguing that there were some states that lack airport facilities but people travel by land to neighbouring states to fly.
He, therefore, called on his colleagues to support the temporary movement of the international airport to Kaduna, as it would afford the citizens the opportunity "the beautiful scenery of Kaduna."
Concluding the debate, Senator Saraki said: "Where else in the world are things done this way? The idea of total closure of the Abuja Airport is not the best option. Therefore the Senate Aviation Committee should meet with the relevant ministers and heads of aviation agencies within the next two days for an option and report back to the Senate within a week for final decision over the matter."