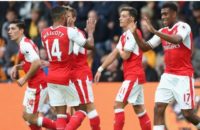 Arsenal
Arsene Wenger yesterday claimed Mesut Ozil and Alexis Sanchez could be inspired to sign new deals with Arsenal after three other players agreed contract extensions and insists his own future is not a major consideration.
"Generally I would say yes. Because the squad has a great spirit and I believe as well that the players will want to stay together.
"It's important that we have a stability in our squad and they are part of that. We are of course in the process of negotiating with other players, as you know well. We want to keep a good stability and that is what is needed at the end of every season.
"I think Ozil has been a bit misinterpreted. He would like to know what happens on the managerial front of course, but I don't think that's the main part of his decision.
I think it's part of it but it's not the only thing. There are many other ingredients in every negotiation. Hopefully we will find a conclusion with him very quickly."