By Omeiza Ajayi
ABUJA— 'Suspended' Deputy National Publicity Secretary of the All Progressives Congress, APC, Mr Timi Frank, has lashed out at the National Chairman of the party, Chief John Odigie-Oyegun, saying that he was planning  an amendment of the party's constitution targeted at cowing some members of the party, who  are opposed to his (Oyegun) leadership style.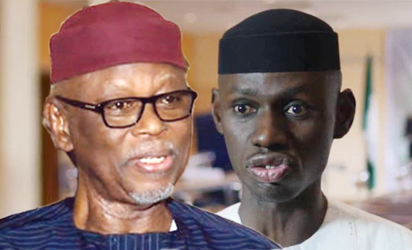 Frank in a statement, yesterday, in Abuja alleged that the chairman's decision "is a grand plot against the national leader of the party, Bola Tinubu, myself and other leaders who oppose his leadership style."
As part of the timetable for the party's second national convention, Odigie-Oyegun had, Wednesday, set up a constitution review committee headed by the party's National Legal Adviser, Muize Banire, with a charge to closely look at the provisions for disciplining members, which he (Oyegun) described as a problem that has "to be speedily neutralized" by the party.
He said that Oyegun was vigorously working to ensure that he pushes out some prominent members of the party.
Frank said it was shameful for the National Chairman to talk of indiscipline "when he has breached the same constitution more than any other person. His leadership has breached party constitution several times, even as regards the National Convention which the party law states clearly that it must be held every two years."
"Oyegun is talking about indiscipline when there are several allegations of  favouritism yet unanswered hanging on his neck."
Frank challenged the national chairman to tell the world how he plans to fill some vacant positions in the National Working Committee, NWC of the party when "he is talking of a non-elective national convention."