By Anayo Okoli
UMUAHIA— Governor Okezie Ikpeazu of Abia State has called on his people to continue to pray and trust in God in the New Year and expressed the hope that year 2017 would be better than the past years.
In his New Year message to Abia people and signed by his Chief Press Secretary, Enyinnaya Appolos, Ikpeazu thanked God for the out-gone year and urged the people to renew their faith in Him.
He said: "We remain grateful to God for His mercies and protection. It is not by our power that we have made it to 2017, it can only be God. Therefore, I urge us to keep holding unto God's unchanging hands.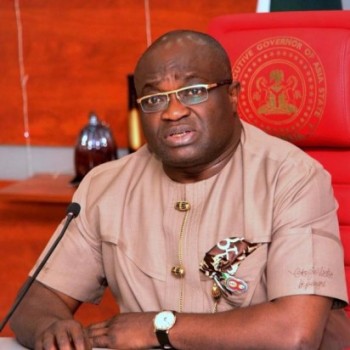 "As  a government, we are not yet in Cannan land. Therefore, we remain resolute in our efforts to continue in the infrastructural redevelopment of our state, as we shall embark on construction of more roads and bridges this year.
"Our agricultural revolution will take a more serious dimension this year, as we shall launch the community palm plantation in all our communities.
"You must have noticed a recent upsurge in the conversation around Made-in-Aba such that even President Muhammadu Buhari gave personal assurances in his 2017 budget speech that attention will be paid to the manufacturing power-houses of Aba.
"This is the result of our sustained advocacy blitz to showcase the ingenuity of Aba producers to the world and boost the GDP of Aba, which is today, the SME capital of Nigeria.
"Even more impactful is the fact that because of the sustained campaign, people are now proud to acknowledge that they are wearing or using Made-in-Aba products which has in-turn led others to pivot towards Aba for their goods and services."