By Benjamin Njoku
AHEAD of Sunday's planned nationwide protest against President Muhammadu Buhari's administration over the unending hardship in the country, top Nigerian music star, 2face has come under heavy attack for spearheading the protest.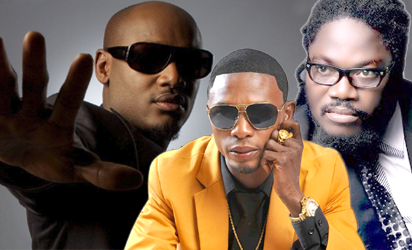 Recall that 2face last Monday, had called on Nigerians to join him in a nationwide protest against the 'policies' implemented by President Muhammadu Buhari-led administration. The protest is slated to hold, February 5. While the likes of maverick musician, Charly Boy, comedian, I Go Dye and popular 'Galala' singer, Daddy Showkey have declared to join forces with the "African Queen"crooner, one of his former group-mates, Blackface does not believe in the idea behind the protest.
He took to his Instagram page yesterday to attack 2face by reposting the controversial article by Divinewealth blasting 2face. Following his decision, the music legend was blasted by one Dr. Bunmi Awoyemi Divinewealth, an alleged Buhari apologist who called him illiterate and for daring to plan a protest against the President. Also, a don, Professor Akindele Adetoye called 2face, "Bloody illiterate" for planning to lead protest against the FG.
But in a  swift reaction, popular rapper, Michael Ugochukwu Stephens a.k.a Ruggedman slammed Blackface for ridiculing 2face and supporting a hate article against him. He wrote on his Instagram page: "@blackfacenaija you be my guy and @official2baba my guy but I will tell you that this your move right here is very disappointing. You sang hard life and all when things were even a bit bearable, but now that things are really messed up you have kept quiet. But here you are mouthing off over a 2face move? Guy you fall my hand."
Talking about educating people. It is not a protest being lead by 2face. He said he saw the post and thought to lend his voice to it. Something, a few other artistes and people have done.
So you knew about all the governors embezzling funds and yet you said nothing. But you are quick to shout now because 2face name has come out on something. But you make it too obvious you have something against 2face and you should have let all this go by now.
Nigerians  are suffering and you are just monitoring 2face. At least, he has chosen to lend his voice to something all Nigerians believe is needed. What have you done? You have details that should be out there for all to see but you only decided to speak because 2face is involved. Guy change your ways. I know you as a crusader and not a 2face hater. The people need voices that can be heard,
I know you are one of them. Do the right thing brother. Life in Naija now is harder than it ever was and Buhari's people should let Nigerians know what they are doing right and also let Nigerians know who and who is doing wrong. You can't say you are doing great things when the people can't feel it. You cant say you are fighting corruption yet not one corrupt official has been jailed in 2 years."