By Prince Okafor
LAGOS — Following the liquidity challenge confronting the Generation Companies, GENCOs and Distribution Companies, DISCOs, Minister of Power, Works and Housing, Mr. Babatunde Fashola, has demanded that they submit the audited reports of their accounts.
Fashola, yesterday, at the monthly Power Sector and Stakeholders Meeting, at the Ikeja West Transmission Station, Lagos, also said DISCOs should be able to resolve issues bordering on metering and billing.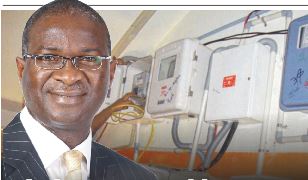 "I think the top burner issue remains service delivery. I and my team are working hard to make the operating environment better. But as pioneers, you will carry some burdens. You will make more sacrifices. I am optimistic that it will get better," Fashola said.
The minister emphasised the need for management and staff of DISCOs to always render effective services to customers. According to him, "investors must be willing to carry some share of the burden.
"You will have to sacrifice perhaps more than what you have done but I am optimistic that it will get better, I am optimistic that we can win together and we can win for the Nigeria people."
At the end of the meeting, the communiqué issued noted that the Transmission Company of Nigeria, TCN, had informed the power stakeholders that transmission projects at Shagamu, Ikeja West, Ajah, Ayobo, Omotosho, Ayede and Ogba would be completed before the end of 2017 to boost transmission capacity to over 6,500 megawatts.
Furthermore, the Nigerian Bulk Electricity Trading Plc, NBET, reminded stakeholders that all operators must pay their bills promptly to NBET as well as their suppliers and service providers, to ensure that the sector remains functional and friendly.
The meeting also agreed on the importance of government Ministries, Departments and Agencies, MDAs, paying their debts, acknowledging the need for proper verification prior to payment and also noted the ongoing verification and data collection exercise which is aimed at improving liquidity in the sector.