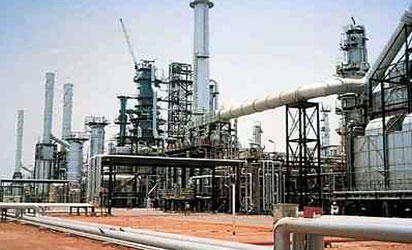 A refinery
By Sebastine Obosi & Michael Eboh
The Federal Government, yesterday, told International Oil Companies, IOCs, operating in the country to invest in the building of refineries in the country.
A statement by the Ministry of Petroleum Resources, in Abuja, explained that the Minister of State for Petroleum Resources, Mr. Ibe Kachikwu, spoke at a presentation to top Executives of ENI in Rome, Italy.
The statement noted that at the end of the meeting, ENI signed a Memorandum of Understanding, MOU, with the Nigerian National Petroleum Corporation, NNPC, for the refurbishment of the Port Harcourt Refinery, building of Phase 2 of the Okpai Power Plant and further investments in Nigeria's oil and gas industry worth over several billions of dollars.
Kachikwu called on ENI and other IOCs to move beyond the business of crude oil exploration to firmly support the vision of enhancing local production of petroleum products in Nigeria by building refineries in the country.
He said the major plan of the Federal Government was to stop importation of petroleum products in the long term, stressing that it would be expedient that every IOC invested in building a refinery with a chain of distribution.
According to Kachikwu, the refineries could be built by the IOCs, and within a short period of time, investment in the venture could be recouped by direct sales model.
Giving historical background of the challenges of the petroleum sector, Kachikwu argued that investment in the refineries was necessary now, more than ever, considering the fact that Nigeria's refineries built in the1970s and 1980s were at present, working at sub-optimal levels and could not sufficiently cater for local needs.