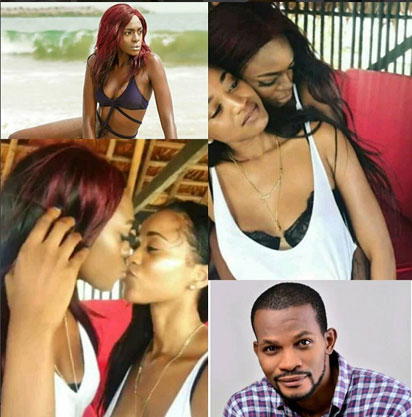 By Anozie Egole
UP and coming opinionated actor,  Uche Maduagwu, is fast becoming a controversial figure, as he uses his Instagram handle to express his opinions about issues and personalities in the nation's entertainment industry.  His recent target is former Nigerian BBA housemate and actress, Beverly Osu, who he alleged as being a lesbian following a picture she posted online.
The former BBA housemate, weekend, shared a controversial video with her girlfriend, Maria, a Namibian ex-BBA contestant. The duo in the short clip shared a brief kiss and some touchy-freely moments fueling lesbianism reports.
To the actor, the video was as distasteful as it was revolting and he wasted no time in making his opinion known in his Instagram post.
In his post, he said, "Shame! Shame!! Shame!!!, the kind of children we have these days are complete mistake. They are generations of wastefulness. I understand that some of our celebrities were molested at tender ages, I feel so sad about that because I am against child molestation.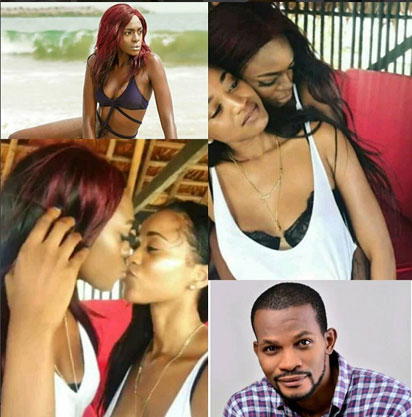 In fact, I believe anyone who molests a child should be locked up in a maximum prison for at least 200 years with hard labour. But let us face the fact, just because your uncle sexually molested you when you were a little child doesn't mean you should turn yourself into something else. I understand the trauma and pains, the agony of being abused.
I understand the physical, psychological and emotional pains that a young girl goes through, but becoming a lesbian in broad day light is not something a good woman should indulge in. I know most of our female celebs struggle with lesbianism, it's like a secret habit many of them have been trying to come out of but can't. We are Africans, let us behave like one and not behave like imbeciles, the funny thing is that even the lower animals don't practice this devilish act, a female dog will always mate with a male dog, same goes for pigs, goats just to mention but a few.
But it's crazy that grown up female adults stoop so low as to sleeping and mating with each other. Please if you have no shame, remember you have so many kids looking up to you as their role models. Practice your lesbianism indoors, and stop advertising your foolishness in public. Anyway, I will be having series of prayer sessions for your soul, because you are a beautiful woman with so much potential, but if you allow the devil to steal away your grace, you will be miserable for a very long time."