By Gbenga Olarinoye
Osogbo—Osun State governor, Mr Rauf Aregbesola has assured the people of the state that this year  will be the year of consolidations on the various achievements of his administration.
The governor in his new year broadcast to the people of the state yesterday reeled out the achievements of his administration in 2016 ranging from accomplishments in education, infrastructure, social protection services, urban renewal, provision of massive supports for business initiatives and several others.
The Governor said in his broadcast, "This year, 2017, is going to be our year of consolidation. We are going to consolidate on all our programmes, especially in education, agriculture and road infrastructure. We are not going to abandon any of our projects. It is going to be our busiest year so far.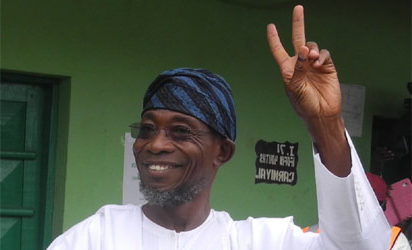 "We have great hope and faith that 2017 will be the best year for us and all the people of Osun."
The governor admitted that the year 2016 was one of huge trials, travails and tests; rejoicing however that "it was also a year of great victory and accomplishments."
The governor expressed satisfaction that his government recorded landmark achievements in the commissioning of many schools, a philosophical disposition towards just and equitable sales of consumer goods with the launch of Osunwon Omoluabi (Omoluabi Scales and Measures) and others.
He said, "In the field of education, we commissioned to the glory of God, Anthony Udofia Elementary School, Osogbo, St Michael Elementary School, Ibokun, St Thomas Elementary and Middle School, Iwoye Ijesa, Osogbo Government High School, Osogbo, Adventist Government High School, Ede and AUD Government Elementary School, Sabo, Osogbo.
"The commissioning of Osogbo Government High School coincided with the 25th anniversary of the creation of our state which was celebrated with pomp, pageantry and funfair."