By Josephine Agbonkhese, Chris Onuoha & Anino Aganbi
IN the last three decades of its operation, Jaji Nigeria Limited (not firm's real names) has made it a tradition to give 50kg bag of rice to every one of its staff at the end of every year. It was, therefore, not out of place for members of staff to anticipate the same gesture this Yuletide. But alas, barely a week to Christmas, history was this time around altered.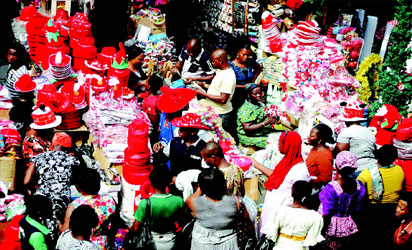 While one of its staff who shared this story with Woman's Own in disappointment might still be in great shock as she had banked on that bag of rice, this scenario is symbolic of the overall situation in the country this Yuletide. The present economic recession has forced every wise Nigerian into structural adjustments as prices of items skyrocket — double and, at times, triple — which is not surprising for an import-dependent economy.
It's RED Christmas
It's only three days to Christmas but the usual bustling that highlights the season seems to have vanished into thin air. For most families, the economic recession has taken the shine off the Yuletide hitherto synonymous with shopping for new clothing, visiting luxurious fun places, travelling to hometowns, partying, feasting, gift-sharing, and more.
Indicators: From Woman's Own observations, it's certainly going to be a RED Christmas for most Nigerians, perhaps in place of the WHITE Christmas with snow enjoyed presently in some climes.
This is as incomes have either remained stagnant, dropped or in the worst case scenario disappeared for many who've lost their jobs, while the cost of living continues to skyrocket without compassion.   As if these aren't bad enough, only last week, popular pyramid scheme, Marvrodi Mundial Moneybox (MMM), which most Nigerians had found solace in, put a suspension to fund withdrawal, making the Yuletide even gloomier and in fact redder, if any word like that exists.
Consequently, people no longer succumb to flamboyant lifestyles. What is in fact more important to them now is to eat and survive for the next day, with little thoughts about sharing with friends and loved ones, which is the hallmark of the season.
No wastages this time
"We've not been paid salaries since October and now, December is almost ending. I've decided to cancel my usual Xmas trip home and rather envelope money to be given to people back home. This way, I've been able to cut off the incidental expenses usually incurred when the extended relations bring multiple problems that are packaged waiting for the December re-union. Frivolous spending is out of the way for me at the moment," Tobi, an administrative staff with a Port-Harcourt-based company, said.
Frivolous spending
For a banker with one of the old generation banks who simply identified herself as Mrs Benedict, the children might have to do without Christmas clothing this year since she still hasn't bought any by this time.
"Things are no more the same. The recession has dug deep into our pockets and the fun we used to catch in the past will not be there anymore. The kids might not have Christmas dresses, shoes and all of that too. We're going to make do with the good-looking clothes they have at home. Thank God they still have plenty of such," she said.
For Mrs Jennifer Tijani, a
civil servant, school fees beckon in January and no school wants excuses for a parents' inability to pay school fees.
"We cannot tell them we've used all the money for the Yuletide. So, why should I try to be flamboyant at this time and suffer the consequences in January?   I've told my children nobody is visiting more than one fun spot this time around. If any of them chooses to go to the beach, then no amusement park. I can't afford the different fun places we went to in the past.
"Have you observed there are no bangers (fire crackers) this year? Last year, two weeks to Christmas, the bangers were everywhere. But as we speak now, their prices have shot up and most parents are not ready to waste money on such," Tijani said.
"For me, we will be visiting friends instead of going to spend money at fun places. The highest I will do is take my children to see father Christmas because at least, he will certainly give them gifts which they will cherish; I'm talking about value for money here," Mrs Chidi, a friend to Tijani, quipped before Woman's Own could finish speaking with Tijani.
Prices of food items
But who would blame anyone for trying to be a bit frugal at this time when the prices of food items haven't been fair to one's pocket? Findings show that there is about a 200 per cent increase in the prices of food items in the market, compared to December last year.
A visit to the popular Mile 12 market at Ketu in Lagos, revealed that a bag of rice which sold for an average of N10,000 last December, now sells for an average of N20,000. Five litres of groundnut oil and palm oil which sold for N1,300 now sell for an average of N4000.
Woman's Own also observed that patronage was quite low at the market, as opposed to what obtained in the past where shoppers competed for space. According to traders in the market, sales are still quite poor even though it's barely three days to Christmas.
"When will customers come like they used to? Is it on Christmas Day?" an angry trader queried when Woman's Own tried to assure him of improved sales in the days ahead.
Perishable items' price crash: Contrary to projections though, prices of some perishable food items have reduced by almost 55 per cent in most markets visited across Lagos State, ahead of the Christmas and New Year celebrations.
At Iyana Iba, Mile 12 and Iddo markets, a basket of tomatoes, which sold for N9,000, now sells for N5,000, while tatashe and chilli pepper cost N4,500 and N4,000 respectively, as against N8,000 in October.   A jute bag of onions also sells for N17,000 as against N28,000, while a paint measurement of garri now sells at N600.
The spokesperson of Mile 12 Traders Association, Mr Femi Odusanya, however attributed the price reduction to massive harvest of the items for the Yuletide season. He explained that most farmers were harvesting their produce ahead of the celebrations, thereby leading to surplus and drop in prices. He however feared that this may result in food scarcity by April when the produce will not be in season, if efforts are not in place to mop up and preserve the excesses.
At Idumota,it's endless haggle
For traders in the clothing business especially, this is usually the most profitable period. But the story too seems to have changed.
When Woman's Own visited the popular Idumota Market in Lagos Island, the traders were a shadow of themselves. Disappointment was conspicuously written all over their faces as most of the few shoppers who thronged the market haggle endlessly, most times, eventually walking away as they simply find the items too exorbitant.
"I can't just seem to find anything to buy in this market. If I knew, I won't have wasted my time coming here. All the prices have practically gone up 40 per cent! I came here just to buy a few things for myself and my son but I'm not finding things funny at all," Omotolani, a young mother at the market," said.
Interstate transports
At this time, one would expect a lot of people to be trooping out of the metropolitan city of Lagos with the hope of celebrating the holiday in their respective home towns as they used to.   But that isn't the case this time as Lagos is still crowded as ever, even though it's barely three days to Xmas.
Woman's Own paid a visit to some interstate transport lines in some parts of Lagos revealing that this time around, the moment a traveller misses the first bus which is supposed to move as early 5.30am, he or she could end up spending hours waiting for the next bus to get filled as there are very few people travelling.
It's also a sad one for not-too-popular lines as only the big names appear to be patronised by the few travellers.
So bad it was, as at our Wednesday visit, that a particular bus from a transport line shuttling between Lagos and Benin City had to leave empty to go to other locations in search of passengers.
Wisdom is profitable
No doubts, the best guide for anyone this Yuletide should be the popular Bible verse that says "Wisdom is profitable…" because certainly, from all indices, Christmas in a recession certainly calls for wisdom. Otherwise, the chances of plunging into a depression after the Yuletide could worsen.