AS the year 2016 comes to an end, Nigerians are faced with an opportunity to reflect on the performance of government agencies and institutions. One of these institutions is the Nigerian Army, which is saddled with the onerous task of protecting the nation from external aggression as well as maintaining internal security. 
However, despite its commendable efforts in restoring a relative measure of peace and security in the North East and Niger Delta, the Army has been accused severally of human rights abuses and extra judicial murders by very reputable organisations such as Amnesty International.   Its responses to most of these allegations have been lukewarm at best and non-existent at its worst. That the Nigerian Army has exhibited a reluctance to adhere to international best practices and rule of law is saddening.   The fact that the Nigerian Army headed by Lt Gen Tukur Yusuf Buratai carries out persecution and acts of injustice and unfairness, unchallenged and unchecked should be worrying to Nigerians.
In June this year, 38 senior army officers were retired for alleged partisanship and involvement in the Defence Contracts scandal.  Gen. Buratai and the Minister of Defence Mr. Dan-Ali, expressed relief that all legal processes involved in their sacking had been complied with.
Military  career
Surprisingly, most of the officers stated that they were not aware of any alleged offences they may or may not have committed and that they were not allowed to defend themselves or give their own sides of the story. As such, most of them appealed to the President for reinstatement. Nine Major Generals, ten Brigadier Generals, seven Colonels, eleven Lieutenant Colonels and one Major were summarily retired.
As often happens in cases of injustice and unfairness, the issues never completely go away. This is because persons who were ill-treated do not get closure until their issues are redressed and resolved.   This is evidently the situation with the Nigerian Army and those retirements.  In a cover story in one of the leading daily newspapers, Brigadier General Abubakar Sadeeq Hanafi Sa'ad, one of those retired expressed his dismay at the type of 'Jungle Justice' meted out to him and his colleagues.  Sa'ad a former Director of Military Intelligence , DMI, stated that no wrongdoing of any kind was established against him by a court or court martial to warrant the termination of his unblemished thirty two year military career. He noted further that he was a victim of "overzealousness, vindictiveness,  arbitrary, unfair and capricious application of military laws that violated Nigerian Army regulations and my fundamental rights to fair hearing as a citizen."
This is very shocking coming from a former DMI, who was appointed by Buratai.  The right to fair hearing is better explained in Article 10 of the Universal Declaration of Human Rights, UDHR, which states that:
" Everyone is entitled in full equality to a fair hearing by an independent and impartial tribunal, in the determination of his rights and obligations and of any criminal charge against him"
In the Nigerian Constitution, fair hearing is clearly expressed under Section 36 (2) (a):
" Provides an opportunity for the persons whose rights and obligations may be affected to make representations to the administering authority before that authority makes the decision affecting that person"  (emphasis mine)
So if an officer of the pedigree and standing of Brig Gen. Sa'ad was not afforded an opportunity to make representations to the Nigerian Army (administering authority) via a competent court or court martial before the Army (authority) made the decision to dismiss him, what manner of judicial process did the Army conduct before sacking him and others?  Are the officers not entitled to even know the allegations against them? Is that not Jungle Justice?
Gen. Saad's issue is so pathetic that it was discussed by a panel of scholars on a local TV station, FARIN WATA TV. The hour long discussion is readily available on YouTube.  The panel of scholars noted that in the Quran, Prophet Adam was afforded the right of fair hearing (Quran 7 Verses 22-23) and wondered why the dismissed General was not accorded same.  Interesting, are we now paying lip service to religion? Let us remember that no man is God!!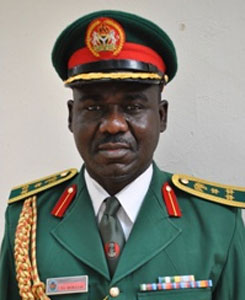 Enquiries revealed that Major Generals SD Aliyu, MY Ibrahim, FO Alli and Wiwa appeared before the presidential arms panel, while Major General Atewe is in court with the EFCC over embezzled funds.  Others who appeared before the arms panel included Brigadier Generals Onoyiveta, Onibasa, Mormoni-Bashir and Abdulsalam.  They were all cleared and not indicted, if indicted they were entitled to appear before a court martial for trial.  The panel does not have conclusory powers to assign guilt under military law.  It is a fact finding body preparatory to a court martial.
The following retired officers were not indicted, queried, charged or convicted via any court martials, they include Major Generals Ijioma, Ejemai, Ilo and Ude. Others are Brigadier Generals Bello, Koko Essien, Lawson, Bright Fibionuma and Agachi. The list also includes Colonels Ekpenyong, Kayode, DR Hassan, Suleiman, Nwankwo, Minimah and Ukoha.  Others not queried or even charged are Lieutenant Colonels AS Mohammed, A Mohammed, Dazang, Arigbe, Adimoha, Baba-Ochamkpa, Egemole, Amadi, Oladuntoye, Enemchukwu and Major Williams.  That is  27 senior officers summarily retired without being accused, charged or found guilty of committing an offence.
Is this how things are currently done in Buratai's Army? What manner of impunity is this? I thought we had a professional army where the arbitrariness of yesteryears was consigned to the dustbin of history!  Doesn't a man deserve to know his offence, if indeed he committed any?  This is why the retirements don't make sense and don't add up.
For example, when the Nigerian Customs Service, NCS, dismissed 29 of its officers in October this Year, the Comptroller General announced that they afforded all the officers an opportunity for fair hearing and followed the laws of natural justice.  In a statement released by the NCS Spokesman Wale Adeniyi, he said:
" The process leading to the actions taken on the officers was painstaking in line with the Public Service Rules(PSR). All the officers were served with Queries indicating the offences committed, before they made special appearances before the Special Investigation Committee. The Committee's recommendation was discussed and approved by the Customs Management. The recommendation was thereafter referred to the Presidency for ratification." (Emphasis mine)
So this is where I have a very serious dilemma. We have a para-military organisation headed by a retired army man complying with existing rules and regulations showing that "times have changed" in line with the Change mantra.  Compare that with the Army that said that it afforded its officers fair hearing but available evidence says otherwise.  Which law of natural justice did Gen. Buratai and Mr. Dan-Ali follow before retiring the officers?
Army of  anything goes
If they really gave the officers fair hearing, can they provide evidence of the days and times these officers appeared before the court martials or even panels of inquiry?  It is evident that we are back to those times when the Army was referred to by its former chief, Salihu Ibrahim as "an army of anything goes."
What is more disturbing, is why did the Army Chief and Minister of Defence mislead the nation by coming out publicly to say all the officers were granted fair hearing, when they know it was not true?
Some of the officers have already gone to court to enforce their fundamental human rights.  Others would follow suit soon, as their appeals now into the sixth month are yet to be addressed by Mr. President.  In one of those cases, the ministry of defence and army counsel appeared only twice, failed to enter a plea, failed to provide any evidence of wrongdoing and failed to attend subsequent hearings.   It appears that the affected officers may have to seek legal options as a means to resolving their arbitrary retirements.
 But wait, Gen. Buratai said they had evidence, dont they think they should show the man whose head they have shaved in his absence the razor blade they used?  It can only happen here in Nigeria, where impunity, injustice and unfairness reigns. There is need for the Senate and House Committees on Defence and Army to review those retirements at a public hearing to enable the whole nation ascertain who is fooling who.   Otherwise how do we exert civilian authority and control over the military?
Even in the dark days of Abacha, people were afforded some form of fair hearing via court martials. Is it now that we have democracy that certain persons who are holding government offices in trust for the people want to take us back twenty years? Were these retirements a misguided attempt at overzealousness?
It would be grossly unfair that a government headed by President Buhari, would go about dispensing injustice to Nigerians over unconfirmed, unverified issues or perceived slights. Nigerians voted President Buhari, because they were exhausted and disappointed with the insensitivity of the previous government to the plight of Nigerians.   The President, himself often recalls with nostalgia at every opportunity the injustice and unfairness of his removal from office and the army some thirty years ago, and he had the privilege to be governor, petroleum minister as well as attain the enviable rank of Major General and become head of state.
Premature  retirements
Your Excellency, sir, how do you think the innocent officers affected by their sudden and premature retirements would feel?  That in a democratic government led by you Mai Gaskiya (honest man), that they could be relieved of their commissions without committing an offence?  If you 'who was head of state can remember your removal with so much pain. What of the man who was fighting Boko Haram in the North East, only to be retired, falsely accused that he participated in elections? He didn't even appear before the election panel.  What of the others?  Those who did not participate in elections, that did not appear before either arms contracts or election panels?  Sir, what about them, don't they deserve justice from you, Mai-Gaskiya? Or should they wait for the judiciary to dispense justice when you are available?
So Mr. President you need to fact check whatever Messers Buratai and Dan-Ali have told you and this can only  be  done by painstakingly verifying the appeals of the affected officers.  In fact, call them to appear before you, hear their side of the story.  That is the principle of natural justice, you as an honest man would know.   There is a need for you to provide justice and fairness to those who have been denied same by the Nigerian Army.   Even recently your SGF, Dr. Babachir Lawal claimed that the Senate did not grant him fair hearing in their persecution of him. The last I recall, is that he is still in office.
It seems that in Nigeria today, until people carry placards to the National Assembly and embarrass the whole nation, they will not get justice. How will people wrongly retired in this recession economy appeal to you for redress and six months later you have not answered them?
Sir, as you know "Justice delayed is Justice denied".