Governor Ayodele Fayose of Ekiti State has described the Department of State Services (DSS) claim that it uncovered plot by the Rivers State Governor, Mr. Nyesom Wike to disrupt governance in strategic federal government agencies as "barefaced attempt by the federal government to divert the attention of Nigerians and the international community from its involvement in the violence unleashed on the people of Rivers State during the December 10 rerun elections."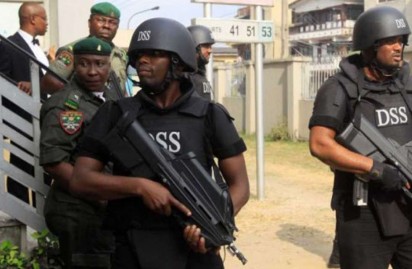 The governor said it was unfortunate that the DSS could no longer hide its partisanship, adding that "accusing a serving governor of plotting to disrupt governance in Abuja is the height of irresponsible display of partisanship by a security agency that should serve Nigerians and not the APC.
Speaking through his Special Assistant on Public Communications and New Media, Lere Olayinka, Governor Fayose said no amount of intimidation, blackmail and harassment by the DSS and other federal government security agencies will make Nigerians to surrender the country to dictatorship.
The governor challenged the DSS to tell Nigerians those who sponsored the Tuesday, protest in Abuja by a group that called itself National Support Groups for Good Governance, (NASUGG), saying, "When protesters went round major streets in Abuja on Tuesday, protesting against Governor Wike, where was the DSS then?
"Assuming but not even conceding that anyone was planning to protest in support of Governor Wike, what is wrong with that? Was the DSS on sabbatical on Tuesday, when protest was held in the same Abuja against Governor Wike?
"Is the DSS now telling Nigerians that only supporters of the All Progressives Congress (APC) can protest and only protests against the Peoples Democratic Party (PDP) are sanctioned?"
Speaking further, Governor Fayose said, "Security agencies were accused of playing ignoble roles in the Rivers State rerun elections. Can the same security agencies that was accused of ballot box snatching and assisting the APC to unleash terror on the people of Rivers State carry out any credible probe?
"The only probe that will be credible and acceptable concerning the Rivers State rerun election is the one in which the international community, civil society organisations and observers who were on the field during the election take part not this kangaroo probe being spearheaded by the police just to work to a pre-determined conclusion."