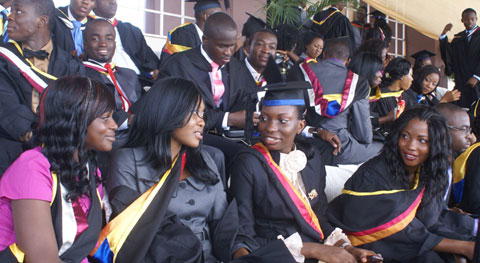 A Cross Section of the Final Year Students Photo By Diran Oshe
By Emeka Mamah
Experts from many African and European countries have blamed lack of transparency and unethical practices as some of the reasons preventing Nigerian universities from making the list of best global institutions.
Speaking at the opening of a three- day "International Conference on Ethics, governance and Higher Education, EGHE 2016," at the University of Nigeria, Nsukka, UNN, the experts who came from the United Kingdom, Kenya, Sierra- Leone, Liberia, Switzerland, Sudan and Congo among several others    said that transparency in admissions, teachings and university administration were some of the criteria used for judging the best universities worldwide.
The UNN is jointly sponsoring the conference in conjunction with Globethics.Net; the Godfrey Okoye University, GOU, and the University of Science and Technology, ESUT, in Enugu. They further said that Nigerian universities must train students on character and integrity for them to compete globally.
In his opening remarks, the Executive Director, Globethics, Geneva, Professor (Monsignor) Obiora Ike said that lack of transparency in educational administration had often denied the country's universities from being ranked among the best in the world.
Ike however, said that with the cuing into Globethics.net by the UNN and other universities in the country, Nigeria was on her way of having its universities rated highly.
Ike said that Globethics.net with nine regional offices, 42 national contacts and over 200,000 participants across the globe, was involved in ensuring transparency in admissions and university administration across the globe.
"Politicians are not the only people who must imbibe "the change starts from me mantra; university administrators must join the campaign. It is not from top to bottom or bottom to top. Transparency in university admission, administration and promotion of staff among others are some of the things that would enable the global community rank us higher…," Professor Ike said.
Earlier in his welcome address, the Vice Chancellor of the UNN, Professor Benjamin Ozumba, had noted that "with the new focus of the Federal Government now on ethical transformation and value- based policy change that will take Nigeria back to increased global ranking as a nation where transparency guides the management of its human and material resources, educational institutions and tertiary frameworks must now follow suit by doing the right things, in the right way and with the right people.
"I plead that the best way for universities and other tertiary institutions must go fully ethical in their management systems. For Vice Chancellors and other Chief Executive Officers, CEOs, of tertiary institutions in the country, this is a win-win governance approach that increases our university ranking globally and regionally and also helps to enlist the university system as a positive and ethical stakeholders in the Nigerian project that will produce citizens with integrity, dignity and patriotic commitment to nation building," Ozumba said.Sat news 9…………………..2/12