By Emmanuel Aziken, Political Editor
Mr. Babachir Lawal, the Secretary to the Government of the Federation, is undoubtedly the most prominent of the aides of the president who have been indicted by government institutions over corruption.
The chairman of the Economic and Financial Crimes Commission, EFCC, Mr. Ibrahim Magu and a very senior aide with round the clock access to the president was also reported to have fallen foul of the president's anti-corruption mantra.
The aide who cannot be mentioned for legal reasons was reportedly indicted for allegedly benefiting from the deal reached between the Federal Government and the telecommunication giant, MTN which saw the fine slashed from N1.03 trillion to N330 billion.
In all three cases, the allegations have been subjected to political insinuations with some alleging that politics more than anything else was behind the allegations. However, against the background of the tough anti-corruption mien of the administration, the official presentation of the indictments against senior officials of the government has become a source of unease for administration officials and supporters.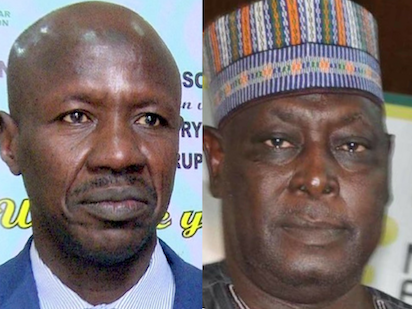 The feeling of gotcha has remarkably not only been resounding in the camp of the opposition but even in the camp of the president.
The indictment of Mr. Magu by the Department of State Services, DSS is undoubtedly the greatest testimony of a division in the camp of the president. The claim of an inter-service rivalry or personality rivalry has in that case been used to defend the faux pas on the part of the administration and the president.
Whether Mr. Magu's chastening by the DSS or the indictment of Mr. Lawal by special Senate Committee was provoked by politics or inter-service rivalry in the opinion of many Nigerians, begs the issue.
The question as to whether Mr. Lawal's companies or proxies benefited from the multimillion naira contract awards for the clearing of grasses is the question his traducers are begging to be answered.
Mr. Lawal's relationship with the president goes a long way back, and he has consistently followed the president through thick and thin. Politically, he has also been used as a buffer against the president's most formidable political rival from the Northeast, Atiku Abubakar. Lawal as the National Vice-Chairman (Northeast) was greatly instrumental in mobilising support for Buhari to the extent of defeating Atiku among Adamawa State delegates during the APC's presidential convention in 2014.
Lawal's appointment as SGF was seen as the ultimate rebuff to Atiku; being that it helped to neutralise permutations of Atiku emerging as the chairman of the Board of Trustees of the party and projecting him as the man to be reckoned with in the Buhari government.