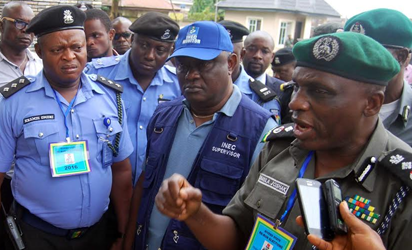 From left: The Police Public Relations Officer for Rivers, Mr Nnamdi Omoni; Resident Electoral Commissioner for Rivers, Mr Aniedi Ikoiwak and DIG Zone 6, Mr Joshak Habila at the collation centre for the Rivers Legislative Rerun Election at Rumuigbo in Port Harcourt on Saturday (10/12/16).
By Jimitota Onoyume, Assistant New Editor
The Rivers re-run elections   which held on    December 10 have come and gone, but the bitter pains brought by the exercise will last forever in the memories of families who lost love ones.
Godson Amos is one of those who lost their lives in the state allegedly to bullets on the day of the election in Mguitanwo community, Emohua local government area. His family members told Vanguard that it was hard to believe that their brother, a final year student in the University of Port Harcourt was no more. "It is difficult to say that my younger brother is no more. We heard he was shot dead by security agents on  election day in our village", one family member said.
With 28,000 police men, 18 gunboats , 3 helicopters , horses and dogs deployed by the Police to the state to ensure security of lives and property during the elections, many thought that the exercise would be bloodless this time around. The foregoing number excludes deployment from the Army, Navy, Airforce and the Department of State Security, DSS on that day.
The Police also suffered a major loss as DSP Akali Mohammed and his orderly were abducted and later beheaded by suspected cultists in Uju community in Ogba Egeema Ndoni local government area. The late Police officer was at the head of a police team from Mopol 48 to the community to take on cultists who allegedly held the area under siege when they met their untimely death in the hands of the cultists who laid ambush for them.
The cultists hijacked their patrol vehicle and disappeared with their riffles.  About 16 corps members were also reportedly abducted in the state during the elections and rescued by security men.
The story of violence echoed in all three senatorial districts. In Bori, headquarters of Khana local government area, a young man was allegedly shot dead by SARS operatives. INEC said it could not conclude the exercise in Akuku Toru local government and some parts of Etche on the election day because of violence.
South South Commissioner in INEC, Dr Lecky Mustapha told newsmen at the commission's headquarters in Port Harcourt that the electoral body had to reschedule elections in those areas because of  violence.
The total number of those who were killed during the exercise was unknown as at press time. But what went wrong despite the heavy security in the state? This is an issue for thorough investigation.
Governor Nyesom Wike,  Caretaker Committee Chairman, Ikwerre local government area , Mr Sam Nwonosike at different times alleged harassment of voters by soldiers and the police. They also alleged invasion of collation centres with security operatives by top politicians of the APC
"I anticipated it. I tried to let the world to know that these are the plans of the security agencies .
"In all my political career, I have never experienced this kind of invasion by security agencies. What causes violence is when you give certain persons undue advantage," the governor said.
"Be assured that we are resisting it, it may take our lives, but we will resist to the last. That is what is expected , when you   are fighting for freedom. You must make sacrifices.
"It is unfortunate that we are congratulating   the opposition   for winning in Ghana, but here the military are directly involved in rigging and hijacking materials .
They say that they want to give Rivers State Governor problems, but you are not giving Rivers State Governor problems, you are giving Nigeria problems", the governor added.
For the Senator Elect, Rivers South East Senatorial District, Senator Magnus Abe of the  APC, security agencies were professional during the exercise. In a statement released by his media aide, Mr Parry Benson he commended the federal government for giving opportunity for people to vote.
"All the security responses have been prompt and adequate. The Nigerian government has tried to give everybody an opportunity to actually cast their ballot all across the senatorial district and that is because the people have been so eager to have an opportunity to vote.
Meantime, the Police and the army in separate statements denied allegations of partisanship. General Officer Commanding 6 Division of the Nigerian Army, Port Harcourt, Major General Kasimu Abdulkarim dismissed the allegations against the army as unfounded, insisting that soldiers only provided what he dubbed parameter defence to ward off hoodlums during the elections.
"It is true that soldiers of 6 Division Nigerian Army provided security during the Rivers State Legislative Re-run Election that was conducted today. In addition, the allegations made by some respected politicians regarding deep involvement of soldiers during the elections were aimed at tarnishing the positive image of the Army.
"Nigerian Army troops were in no way involved in any form of ballot box snatching, neither were they involved in the escort of politicians as alleged.   They acted swiftly in response to security breaches in order to enforce the law, provide aid to the Nigeria Police and other security agencies especially in areas like Abonema, Etche, Gokhana, Ikwere, Eleme, Tai, Khana and Omoku amongst others. Susceptibility of the mentioned areas warranted providing security for the electoral officials, voters, international and local observers, in conjunction with other security agencies by soldiers for a peaceful election to thrive in the environment", his statement read.
The rerun election was for three senatorial seats, eight House of Representatives seats and ten House of Assembly seats. At the time of this report results had not been released by INEC for all the seats contested for.
INEC had so far announced Senator Magnus Abe of the APC as winner of Rivers Southeast senatorial elections, Senator George Sekibo of PDP as winner, Rivers East and Senator Osinachukwu Ideozu of PDP as winner of Rivers West.
PDP won Bonny state constituency, Degema/Bonny federal constituency, the two constituency seats in Asari Toru local government area.
While the APC has also been declared winnerin Tai/Oyigbo/Eleme Federal Constituency, Khana/Gokhana Federal Constituency Gokana and Eleme state constituencies