By Joseph Erunke
Rivers State governor, Mr. Nyesom Wike, has inaugurated a Judicial Commission of Inquiry into the killings and violence that attended the re-run/supplementary elections on December 10, 2016 in the state.
Inaugurating the commission of inquiry at Government House, Port Harcourt, Governor Wike charged the commission to find out the number of those killed and persons responsible for their deaths.
He also charged the Commission to ascertain the names of those who were killed.
The governor stated that it was not within the purview of the Commission to investigate how the elections were conducted.
He said: "This Judicial Commission of Inquiry is not to investigate how they conducted their elections. You are to investigate the murders that attended the elections.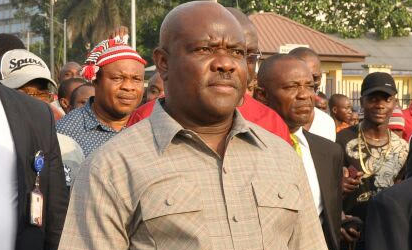 "Those involved in the killings will face the full weight of the law. This government has the capacity to follow through."
He called on members of the commission to stand by the truth and be courageous in the discharge of their assignment.
Responding, Chairman of the Commission of Inquiry, Justice Chinwendu Nwogu, said that the commission would discharge  its assignment  within the confines of the law.
The judicial commission of inquiry has the following terms of reference:    Investigate the remote and immediate causes of the violence during the December 10, 2016 rerun/supplementary elections in Rivers State.
*Identify the perpetrators of the various acts of violence and killings in the aforesaid election.
*Identify  the victims of the violence including those killed.
*Identify if property was damaged and the value of such property.
*Determine if the violence was localised to specific areas within the state or was state-wide.
*Make appropriate recommendations concerning their findings or any other recommendation as the commission may consider appropriate in the  circumstance and submit its report to the governor of Rivers State within one month  from the  date of its sitting.
Protests
Meanwhile, more civil society groups, yesterday, joined in the protests against the violence and killings that characterised the December 10, legislative rerun election in Rivers State.
A coalition of concerned Civil Society Organisations of Nigeria, which shut down some parts of Abuja, to register its displeasure at the development, insisted on the arrest and prosecution of perpetrators of the dastardly acts.
The groups, whose protest came barely 24 hours after some others staged similar protests, took their grievances to the Attorney General of the Federation and Minister of Justice, Abubakar Malami, where they urged the latter to investigate and prosecute perpetrators of the violence without delay.
The groups, during the peaceful protest,  said the only way to ensure democratic stability in the country was to ensure the conduct of peaceful elections.
Its National President, Yusuf Nadabo , noted  that the essence of the protest was to say 'no' to impunity and electoral violence.