By Dennis Agbo
A report published by BudgIT  listed Enugu, Lagos and Rivers as the only states that still meet their recurrent needs in Nigeria, amid challenges of economic recession  occasioned by low governments' revenue.
BudgIT is a civic organization that applies technology to intersect citizen engagement with institutional improvement, to facilitate societal change. It uses an array of technological tools to simplify the budget and matters of public spending for citizens, with the aim of raising standard of transparency and accountability in government. Its methodology is deploying refined data mining skill sets to creatively represent data and empower citizens to use the resulting information in demanding improved service delivery. It is widely regarded as a trusted hub for public finance data in Nigeria.
Governor Ifeanyi Ugwuanyi of Enugu State, while revealing how the state is able to regularly pay salaries amid recession, attributed the feat to the grace of God, noting that  it  also stemmed from prudent management of lean resources. He also recently directed the 17 Council Chairmen in the state to ensure that they pay the  salaries of their workers before Christmas.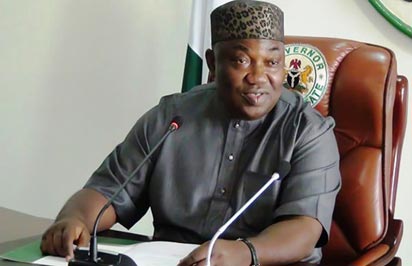 The governor explained why he places emphasis on civil servants' welfare and payment of salaries, saying because Enugu is a civil service state, where, when salaries are paid, it rejuvenates the economy.
Before Ugwuanyi assumed office in May 2015, workers in Enugu parastatals were owed many months of salary arrears.
Now, every worker in the state receives his salary by the 25th of the month.
The state Chairman of Nigeria Labour Congress, NLC, Comrade Virginus Nwobodo, who confirmed the development to  Sunday Vanguard, stated that the only people that had not been settled were local government employees. "Local government workers are actually suffering because of the reduction in federal allocations. The LG workers are actually having hard times because council allocations are not enough to pay them and some of them are being owed one month, two months; some of them are actually on half months, receiving half salaries for some months now. Even on this Christmas, some of them are on  half salary."
Nwobodo, however, recalled that the governor recently insisted that the councils caretaker chairmen should pay two months of outstanding salaries which was complied with, adding that he repeated the order which some local governments complied while some who had meager allocations did not comply with.