ON Sunday, 25th December 2016,Nigerians and other peoples worldwide will celebrate the 2016th anniversary of the birth of the Lord Jesus Christ. Christmas is the name of this day; a day that brings to the climax all the festive activities that make the Yuletide season (which sees off the year) a period that everyone eagerly looks forward to, irrespective of their religious persuasions.
For us here in Nigeria, the 2016 edition of Christmas is the second year of our current economic recession. The sudden steep drop in the price of our monoeconomic product – crude oil – combined with the poor management of our economy, has worsened the misery of Nigerians.
All the economic indices went haywire in the past two years, with the Naira now exchanging for nearly 490 to the US Dollar. At least, three million jobs have been lost. Many who are still employed are either owed salaries for months or have suffered un-negotiated pay cuts. The inflation rate is at record high (nearly 20 per cent), and the Federal Government has worsened the situation by deregulating the downstream sector of the petroleum industry, forcing Nigerians to pay over 50 per cent more for petroleum products. The generality of the population is wallowing in hunger and hardship.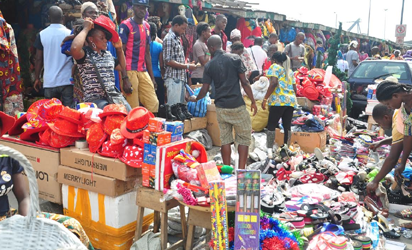 In spite of all these, however, we can take solace in the fact that the recession has forced many state governments to pay genuine attention to the agricultural sector. Indications are that Nigeria may soon resume massive exports of some agricultural products, particularly rice.
As we look forward to the Christmas Day, we urge Nigerians not to be discouraged by the harsh economic weather. Let us bear in mind that beyond the commercial razzmatazz, the family reunions and festivities, there is a bigger reason for this season.
Jesus Christ was sent to us to teach us the mysteries of the kingdom of God. He lived by example and made the ultimate sacrifice in order to restore the favour that mankind lost soon after creation, as the Scriptures teach us.
As the world's population stands roughly at more than seven billion people and rapidly climbing, we need nothing but the love and compassion that Christ lived and died for in order to preserve the world and life on earth.
We must share the joys of Christmas with our neighbours whom we are enjoined to love as we love ourselves, particularly the less privileged ones who abound all around us.
In spite of this recession, here is wishing all our readers and in fact, all Nigerians  Merry Christmas and a Happy  New Year in advance!