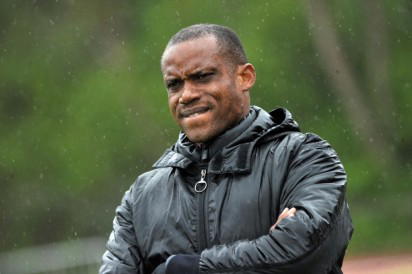 Oliseh
Former Nigeria defensive midfielder Sunday Oliseh has singled out Africa as the most talented continent with players who have football skills compared to the rest of the world. Oliseh, a former head coach of the Super Eagles of Nigeria is in Kenya to conduct coaching clinic and outlined that African players only get their football skills polished when they move to play in the European leagues.
"When I started my football career at the age of 16 in Belgium, the Europeans never taught me how to dribble the ball or pass they only taught me how to be disciplined and what to do at the right time.
They just polish what we as Africans have," Oliseh, who captained Nigeria to the 1994 African Cup of Nations said. Oliseh had a one year stint with the Super Eagles before resigning in February this year due to the inability of the Nigeria Football Federation, NFF, to honour the terms of his contract.
However, he said he has no bad blood with the NFF and enjoyed coaching the three-time Africa Cup of Nations champions.
"Deciding to resign from the coaching job of the Super Eagles is the most difficult decision I ever took in my whole life. It took me a whole month to decide it. Most of the time I was leaving in Belgium so I was not reachable to give comments but it got to a time I had to think of my two kids and the 21 years of marriage I have had with my wife and decided to pass the button to another person," he underscored. In his ten years as Super Eagles captain, Oliseh guided Nigeria to three World Cup qualifiers, Olympic gold and African Cup of Nations glory in 1994.