By Nkiruka Nnorom
Investors in the Nigerian Stock Exchange, NSE, recorded N28 billion gains in their investment in a market rally that commenced the penultimate week.
Analysis of the weekly trading statistics released by the Exchange showed that the market Capitalisation of all listed equities, which measures performance of the market, rose to N8.883 trillion from N8.855 trillion in the previous week. This represents 0.32 per cent increase.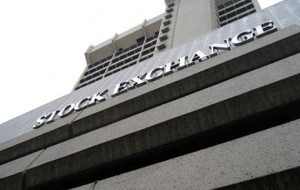 The All Share Index, ASI, on the other hand, rose by 0.30 per cent to settle at 25,817.69 basis points from 25,740.83 points. Similarly, all other indices finished the week higher with the exception of the NSE-Main Board, consumer goods sector, NSE Lotus II and industrial goods sector that depreciated by 0.01 percent, 0.78 percent, 2.32 percent and 3.33 percent in that order, while the Alternative Securities Market, AseM, index closed flat.
The oil and gas sector recorded 7.74 percent return during the week, propelled by gain in 62.78 percent gains in Forte Oil Plc and 10.07 percent increase in Total Nigeria Plc.
The banking sector and insurance sector rose by 0.51 percent and 0.44 percent respectively, while the NSE 30 index was up 0.44 percent.
A turnover of 894.759 million shares worth N10.629 billion were exchanged in 13,418 deals in contrast to a total of 2.479 billion shares valued at N9.988 billion that exchanged hands in 12,059 deals during the previous week.
The financial services sector measured by volume led the activity chart with 695.612 million shares valued at N2.542 billion traded in 6,978 deals; thus contributing 77.74 percent and 23.92 percent to the total equity turnover volume and value respectively. The consumer goods sector followed with 71.988 million shares worth N5.956 billion in 2,362 deals. The third place was occupied by the conglomerates sector with a turnover of 56.868 million shares worth N112.727 million in 717 deals.
Trading in the top three equities namely – Diamond Bank Plc, Wema Bank Plc and FCMB Group Plc measured by volume accounted for 381.114 million shares worth N299.228 million in 1,202 deals, contributing 42.59 percent and 2.82 percent to the total equity turn over volume and value respectively.
Meanwhile, the NSE has placed the shares of  Resort Savings and Loans Plc on full suspension in compliance the Securities and Exchange Commission, SEC's directive.
According to a statement on NSE website, the suspension, which will became effective, December 6, was in compliance with the provisions of Section 35 of the Investments and Securities Act, 2007 and would remain in force until further directive fro the SEC.