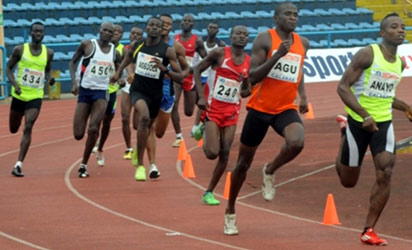 Athletics
By Ben Efe
If urgent steps are not taken by the Athletics Federation of Nigeria, the country's athletes will miss the IAAF World Championships billed for London  August 4-13, 2017.
This is because the world athletics ruling body, IAAF recently released new standards, which no Nigerian athlete has been able to achieve. The AFN must now organise a series of competitions for the athletes or more so, the elite athletes need to feature in meets between now and July 23, 2017 to meet the new standards.
However, this looks like a tall order as the AFN has been in disarray, since the dismal performances of Nigerian athletes at the Rio 2016 Olympics. The AFN president, Solomon Ogba and members of the board seem to have run out of steam and enthusiasm to chart a new course for the 2017 season.
"We need to do something now otherwise we will not be at the worlds next year. The IAAF has set new standards, which became effective from October 1, 2016 to July 3 2017. This means our athletes need to compete and meet these standards.
"From the look of things we haven't even started anything yet. We need to do so urgently so that we can have a team ready," Gabriel Okon, who is president of the Nigerian track and field coaches association, said.
Some of the new yardstick set by the IAAF are 100m, 10.12seconds for men and 11.26 for women. In the 200m, the men will need to run 20.44 and the women 23.10. While in the 400m, 45.50 seconds is the required performance for men and 52.10 seconds for the women.