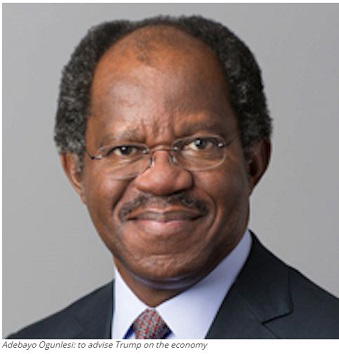 Adebayo Ogunlesi: to advise Trump on the economy
By Emmanuel Aziken, Political Editor
The Nigerian Union Diaspora (NUD), the umbrella organization for the socio-political and economic empowerment of Nigerians in the Diaspora has congratulated Nigeria born Adebayo Ogunlesi on his appointment to the President's Strategic and Policy Forum by US President-elect, Donald Trump.
The NUD in a statement issued by the chairman of its Board of Trustees, Taiwo Olowu and secretary general, Dr. SKC Ogbonnia said the appointment is a great honour to Nigerians and Africa.
The NUD in the statement said:
"Your appointment to the prestigious think-tank is a great honour to Nigerians in America, African Americans, Africa in general, and the human kind. It underscores the widely held belief that Nigerian Americans have the potential to play key roles in both national and global development.
"The honour is, indeed, in line with our earlier congratulatory message to President-elect Trump, highlighting the need to "accord the Nigerian nation as well as the Nigerian Americans similar attention as other leading countries of other continents and their immigrants in the United States, including but not limited to policies on trade, immigration, terrorism, global security, economic opportunities, social issues, and human rights."
"We are very confident that your record of high recognition in the academia and varied business experiences will help lay a solid foundation for the Trump presidency towards global economic stability."