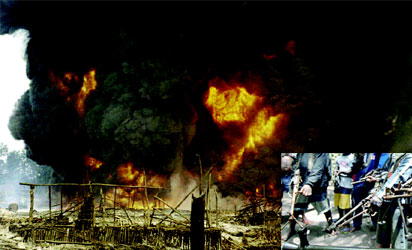 Militants
The Chairman of Petroleum Technology Association of Nigeria (PETAN),  Mr Bank-Anthony Okoroafor, says incessant pipeline vandalism and insecurity in the Niger Delta region possess serious threats to its members' operations.
The PETAN's chairman made this known to newsmen in Lagos on Tuesday against the backdrop of decline in crude oil reserves and gas shortage being experienced in Nigeria.
Okoroafor said that the situation in the region had created a lot of unpleasant impacts in the oil and gas industry, adding that this had led to deferment and cancellations of projects and lull in activity level.
He said that pipeline vandalism in the region had impacted negatively on their environment and the country's socio-economic growth.
The PETAN boss appealed to residents of the Niger Delta region to protect oil facilities in their communities as pipeline vandalism impacted on the community's environment and the state economy.
According to him, if vandalism stops, there will be improvement in economic growth and government will be able to carry out infrastructural development.
"The present economic challenge in the country is as a result of the dwindling crude oil price and incessant pipeline vandalism in the region.
"It is a criminal act to destroy the wealth of the nation. This singular act has caused the country so much to replace or rehabilitate.
"These activities have prevented many from enjoying the dividends of democracy to the fullest,'' he said.
Okoroafor said that the insecurity in the Niger Delta region had led to the downsizing of workers, salary reduction and tightened access to capital by most oil companies.
"Many of PETAN's members are suffering at an unprecedented level due to the unrest in the region which has caused high funding costs and currency volatility.
"Our industry is bleeding, many members cannot even service their loans or pay salaries as at when due. It is very sad to lose capacities that took us several years to build."
Okoroafor urged government to ensure that capacity building in the country were not compromised, adding that government should enforce local content implementation.