ABUJA — The Conference of Nigeria Political Parties, CNPP, has urged the leadership of the Senate not to bow to pressure in its rejection of Mr. Ibrahim Magu as chairman of Economic and Financial Crimes Commission, EFCC.
CNPP in a statement signed by its National Chairman, Alhaji Balarabe Musa, and Secretary General, Chief Willy Ezugwu, noted that Magu's rejection was in order, and also called on the Senate to scrap the EFCC, since it had become a den of corruption.
The statement read in part:  "Recent developments have shown that the EFCC as an anti-corruption institution, has been fingered in shoddy activities, which the commission is yet to provide satisfactory answers."
"For us in the CNPP, the EFCC, as currently established and constituted, has outlived its usefulness. A situation where the EFCC is being accused of looting recovered looted funds is not only a dent on the anti-corruption agency but also a clog in wheels of the anti-graft efforts of President Buhari's administration.
"No matter the sincerity of any President of Nigeria in the fight against corruption, if the head of the EFCC is rotten, there is nothing he or she can do to succeed.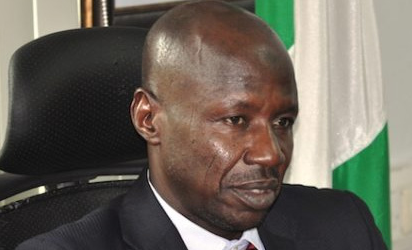 "The CNPP has observed that these enemies of Nigeria will stop at nothing to have their way, to the extent that they are now trying to manipulate the Department of State Services, DSS, to rewrite its security report that indicted Mr. Ibrahim Magu.
''This must not be allowed by all well meaning Nigerians, who wish this country well as the Senate's rejection of Mr. Magu is in order.
"We wonder why a security report on Mr. Magu should be disputed, while security report that indicted Justices of the Supreme Court and some other Judges should be relied upon.
"Does it not speak of double standard? Or are there spanners   within the anti-corruption system working to undermine the anti-graft war?
"We warn the DSS not to allow itself to be used by corrupt politicians and corrupt officials of the EFCC, who are putting pressure on the Service to change its security report on Mr. Magu.
"We, therefore, refer the Senate to an independent investigation by Dr. George Uboh, which detailed the rot in the EFCC since inception. The efforts by the young man to get the eyes of the Federal Government opened on the extent of looting of recovered loots by some EFCC leadership since inception is yet to yield result.
"The Dr. Uboh's findings and documents in his possession, which the CNPP has seen, will help the Senate a lot in further legislative work on anti-corruption war in Nigeria.
"It is time for the Senate to scrap the EFCC by repealing its establishment Act as the agency has become a den of corruption. If need be, a new anti-graft agency should be established with its members appointed by stakeholders outside the executive arm of government, if we must win the war against corruption in Nigeria.
''If the Senate is now the hope of rescuing the country from those who want to hijack the anti corruption war, with the hope of continuing the looting of recovered loots by under-declaring how much they actually recovered from the looters. This has been going on for years and must be stopped.''