By Simon Ebegbulem & Gabriel Enogholase
BENIN—LEGAL fireworks began yesterday in Benin at the pre- hearing of the petition by the Peoples Democratic  Party, PDP, governorship candidate in the September 28, 2016 election in Edo State, Pastor Osagie Ize-Iyamu, challenging the declaration of Mr. Godwin Obaseki of All Progressives Congress, APC, by the Independent National Electoral Commission, INEC, as winner of the election.
This came as APC and PDP youths clashed after the pre-hearing proceedings, with three injured persons hospitalised.
The tension commenced as early as  7:30a.m.  when the youths thronged the venue of the tribunal chanting war songs.
Counsel to the petitioners, Pastor Osagie Ize-Iyamu and his party, the PDP, was led by Mr. Adebayo Adelodun (SAN).
Others are Mr. Roland Otaru (SAN), Chief Dan Okoh (SAN), Mr. Ferdinand Orbih (SAN), Mr. Henry Ogbodu (SAN) A. Akinolu (SAN) and others.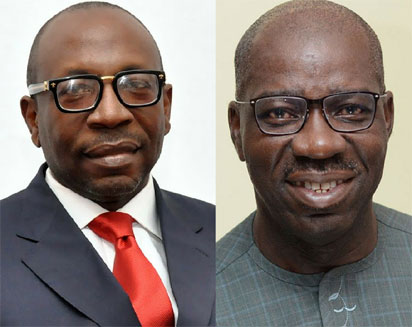 INEC 1st Respondent in the petition was led by Mr. Onyechi Ikpeazu (SAN) while Mr. Ken Morzia (SAN) led other legal practitioners to represent the 2nd respondent just as Mr. Niyi Akintola (SAN) led others to represent the 3rd respondent, respectively.
At the sitting, the Justice Ahmed Badamasi-led tribunal adjourned further hearing of the various applications by both petitioners and the respondents to December 7, 2016, to enable the parties file their applications and responses.
While counsel to the petitioners, Mr. Adelodun, told the tribunal that they were ready to commence the pre-hearing, counsel to APC and Godwon Obaseki, Mr. Akintola and Mr.Morzia, disagreed, informing the court that there were pending applications that were supposed to be heard before the pre-hearing.
Justice Badamsi after listening to both parties, agreed with Akintola and Mozia after cross checking his records, saying there was no decision to commence pre-hearing on the petition yesterday just as parties requested the tribunal to grant them date for the hearing of the application.
Mozia told the tribunal that one of his applications would summarily terminate the petition filed by the petitioners as it was incompetent.
On his part, Counsel to INEC, Ikpeazu (SAN) asserted that he was not aware that yesterday was the date set for the pre-hearing and did not receive any information to that effect from the Registrar of the Tribunal.
After listening to the parties, Justice Badamasi ruled that the petitioners must file their application latest 3p.m. December 3, 2016 while the Respondents must file their responses latest 7p.m. December 5, 2016.